In June 2018, Tribal hosted the first Empower Conference at the ICC, Birmingham. Due to the immense success of the event, Empower Conference 2019 is set to be even bigger. So, what makes this conference different and why should you exhibit?
Our expert exhibition knowledge
For many years Tribal has attended external events as an exhibitor or sponsor, which is why we have created Empower Conference packages filled with the tools, opportunities and dedicated exhibition time (over six hours across two days) we know exhibitors need to show ROI for your sponsorship.
Package highlights include
Lead generation app (part of the Empower Conference app) as standard. Unlike many conferences this lead generation tool requires no additional fee's, and no equipment to hire, saving you time and money whilst increasing your lead capture throughout the event.

O

pportunity to submit a session for the conference agenda*, helping cement your business as a thought leader in front of delegates, which include senior decision makers.

A professional marketing plan that will include your company name, logo, URL and any of your company social media handles, to promote your attendance amongst our delegates and wider social audience.

Access to all breakout sessions throughout the day so you can be part of key discussions.

Free stand space, so you can get creative with your exhibition space.
In addition to this our packages can also be customised to fit a wide variety of budgets and needs. See what our packages include here.
Tribal Empower Conference 2018 exhibitors / sponsors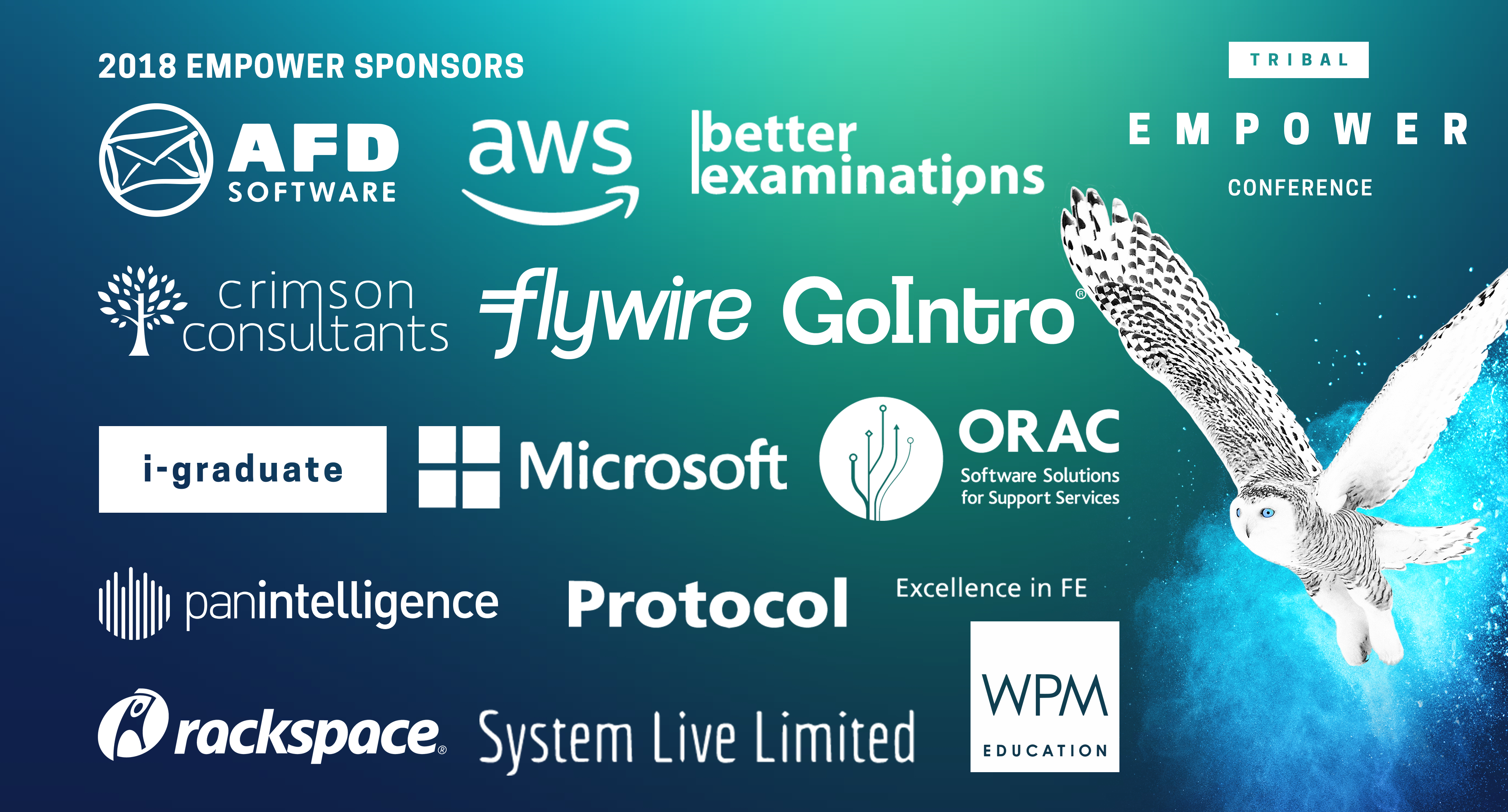 Our customers are some of the best in education
We work with some of the most innovative institutions in the UK, providing software solutions and services. To enrich our customers conference experience, we want to showcase the best and brightest of exhibitors that can provide additional support and solutions to the education sector. If that sounds like you, why not get in touch?
It's recommended by other companies who work in education
Based on our exhibitor survey from 2018, 80% of exhibitors who attended would recommend exhibiting or sponsoring at Empower Conference, while 90% said our conference packages were good value for money. From the customisable packages to your dedicated contacts during the planning stages and on the day, we strive to ensure our exhibitors are looked after and more importantly given the opportunities they need to meet their business objectives.
Empower conference is an exciting new venture for Tribal, and to guaranty our delegates only meet the most relevant businesses during the conference, we have taken the decision to not over subscribe our conference with exhibition stands, instead preferring to offer our delegates quality over quantity. This provides our exhibitors with less competition and more essential one-to-one conversation time, improving the exhibition experience for all.
Take a look at one of the exhibitors from 2018 and their Empower Conference experience.
Networking in a relaxed environment
After a day of engaging sessions and quality exhibition time, Empower Conference offers a relaxed and enjoyable evening of networking and entertainment. Starting with a drinks reception which takes place within the exhibition hall, to the gala dinner** where you can talk or dance the night away with delegates and other exhibitors. Both events are the perfect setting to re-connect with your contacts and by using the Empower Conference app you can even invite select guests to join your table.
Our mission to constantly improve our conference offerings for both delegates and exhibitors.
Throughout the conference we will be taking feedback and conducting surveys to ensure the conference is meeting (or hopefully exceeding) everyone's expectations. We also provide both delegates and exhibitors with a thorough post event survey, where you can share your thoughts and ideas for next year. Our 2018 exhibitors have helped shape our offerings for 2019, why not get in touch so you can help shape Empower Conference 2020?
*All submissions will be reviews and those exhibitors who are successful will be advised
**Tickets to the gala dinner are included in our silver and gold exhibition packages but can be added to bronze packages for an additional cost.