As we strive to deliver an ever-improving level of service to our customers, we sent one of our Senior Support Consultants to Blackburn College for a week to understand better how ebs enables the delivery of a successful student experience.
Having worked previously with other colleges in a similar fashion, I was keen to continue collaborating with users of the ebs system. By exposing as many of the support team to as many customer environments as possible, I truly believe that we can achieve a level of empathy that allows us to see the true nature of an issue, and fully understand the impact and urgency, beyond that which may simply be captured in the details of the incident.
As one of the longer serving members of the team, Simon was armed with a wealth of knowledge that would hopefully be expanded on and given some fresh context during his visit.
About the College
Blackburn College has been using ebs for over 15 years and has a heritage going back over 125 years. It is the one of the largest and most successful colleges in England, with the Ofsted accolade of Grade One, Outstanding in all areas.
In 2009, the college opened the University Centre, proactively engaging with businesses in the development of many of its vocational and higher level courses. Over 3000 students undertake degrees currently, awarded by Lancaster University, which has a worldwide reputation for excellence.
Over the past four consecutive years nine out of 10 students who come to Blackburn College leave to go into employment or further study. The College works closely with employers across Pennine Lancashire and beyond, supporting them in developing a world class workforce and being competitive in a global marketplace. This is central to their mission as an Educational Institution driven by vocational and academic excellence.
Working with the College
Ray Dawson, Blackburn Colleges Information Systems Manager, provided us with a detailed agenda before the visit, which would see Simon working in many different areas of the college.
During his time with the College, Simon got a chance to see how the College was structured, and to explore the importance of functionality to key college operations. As well as spending time with Curriculum and registry teams, he was given an opportunity to work with the ILR team, which gave him a chance to see how the data return was produced, and maintained to extract college funding. Simon also got to see how ebs was implemented and rolled out to users, and how user displays were configured to make them as efficient as possible while allowing users to carry out their daily tasks.
On the final day, the College showed Simon their own developments, which integrate with ebs making it truly fundamental in terms of supporting the college operation.
Testimonials
Ray Dawson (Blackburn College):

Having being a user of ebs for over 15 years during which time we've spoken to support on many occasions, it was really good to meet a member of the support team face to face and be able to discuss our issues, frustrations and the good aspects of using ebs. Simon spent 4 days on-site at Blackburn College during which he was able to meet a variety of staff who use ebs for different tasks including: curriculum, enrolment, support manager, timetabling, registers, examinations, ILR etc. He also spent time with the IT systems and reporting staff who support ebs within the college, integrate it with other systems and develop a variety of reports.
Although the college has a good working relationship with our Tribal consultant, this was an excellent opportunity to extend this to the support team, and I'm sure that moving forward this will benefit both the college and Tribal.
During Simons visit, staff took the opportunity to quiz him on various aspects of ebs and he was able to provide some practical advice on how best to use the system. He was also able to highlight functionality we had missed in recent releases.
Hopefully Simon got a lot out of this experience and has a better understanding of how a college operates, and understands why certain key functionality is important to a college, and how seemingly minor issues can make a big difference to how we do our job.
I feel this service was a real benefit to the college and we'd welcome this becoming a regular feature in the future.
It will certainly improve the working relationships between the college and support and I'd welcome more face to face contact with them, such as having support present at the national ebs conferences.
Keep up the good work!

Simon Mawer (ebs Support):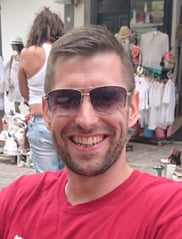 My time at Blackburn College gave me an insight into the way a large college operates that we really aren't exposed to working on the support desk. While we may understand how the software works (or more likely how it breaks), we often don't understand the rationale behind why it works as it does. Ray and the team working around him were extremely friendly and the time they devoted to showing me how they work was greatly appreciated.
Spending time with the teams that deal with curriculum, registrations, timetabling and data returns gave a broad overview of the way ebs is used and the challenges that are encountered on a day to day basis. What might be perceived as a 'cosmetic' issue can have a significant impact on the user experience. Simple things such as a tree structure not being expanded when navigating to a page can disrupt the flow of data input, which can be costly.
What I found surprising was the extent to which Blackburn are able to develop their own applications. Their MIS/Computer Services teams were incredibly talented and were able to develop their own bespoke applications to suit their specific needs, while using ebs as the core. For example, they had created their own applications for 24+Loans, Data Miner and PLR.
Ray and his team were extremely accommodating in dedicating time to show me these applications and how they are used.
Overall my feeling was that the experience was useful in putting a human face on the customer and helping me to understand how ebs works in the college environment. It also helped give an insight into how the issues raised impact on the users. I hope they also found the experience worthwhile.
Outcomes and next steps
As with previous exercises, I feel that this has been a success. Both Simon and the College staff seem to have taken plenty of positive ideas away, and it's difficult to see how this could have been more productive. These visits give us such a fantastic insight into the working lives of our customers and users of ebs, and only strengthen the relationships that we have with them.
Simon imparted some simple tips during his stay, such as explaining how to export grid configurations, how to add learner level employment records and adding notes to curriculum, and these will hopefully enable the users to make the most of ebs, which in turn will make their jobs a little bit easier.
In the spirit of seeking improvement, I feel that there may be ways to extract even more value from these experiences, by focussing the time on a particular aspect of college operation to gain more depth of understanding, and I would encourage any customers that may wish to aid us in developing this idea to get in touch.