Safeguarding student wellbeing and mental health is a challenge faced by all universities and colleges. As time has passed, student wellbeing has become a major focus for Higher Education institutions as student support services come under increased pressure. Wellbeing and mental health are vital parts of creating a positive student experience, with any issues impacting both social and academic student life.
The Covid-19 pandemic has only worsened the situation. The pivot to remote academic delivery and the significant impact on student social life on campus – or rather lack thereof - throughout the pandemic has negatively affected student wellbeing. All areas of university life have had to quickly adapt, and student support services are no different. Institutions are acting to proactively face this growing crisis, identifying vulnerable students and intervening with support as soon as possible. Institutions are aiming for early interventions, efficient crisis management policies, and timely treatment referrals.
Find out more about Tribal's Student Support & Wellbeing Solution
Digital technology can help students to get immediate and direct access to support, helping institutions to safeguard student mental health, and enabling educators and support staff to effectively identify and respond to student needs. This article explores the current state of student wellbeing, how it has been affected by the Covid-19 pandemic, and how technology will play an essential role in the sector's response.
What percentage of students struggle with mental health?
A report by the Institute for Public Policy Research (IPPR) in 2017 found that two per cent of UK first-year students in 2015/16 disclosed a mental health condition (15,395 first-year students) to their college or university. This is almost five times more than in 2006/7. This demonstrates a significant increase in disclosed mental health conditions over the decade.
The same report states that just under half of students experiencing a mental health condition chose not to disclose it to their college or university. As the portion of students experiencing mental health issues has increased, universities have increasingly focused on improving student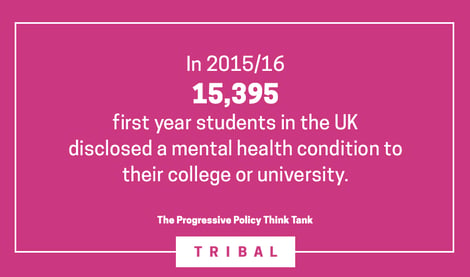 wellbeing as a matter of urgency. Student wellbeing services have become an integral part of campus provision.
Recent experimental statistics from the Student Covid-19 Insights Survey (SCIS) in England shows the significant effect the pandemic has had on student mental health. The survey released in January 2021 found that nearly two thirds (63%) of surveyed students stated that their wellbeing and mental health had got worse since the beginning of the autumn 2020 term. The situation is deteriorating, as a previous survey in November 2020 found 57% of the students reporting worsening levels of mental health.
The average life satisfaction scores of students decreased by 9% between the November 2020 survey and the January 2021 survey, which scored 4.8 out of 10. In contrast, the average life satisfaction score for the same period for the population of Britain was 6.4 out of 10. Universities face a huge challenge in both the short and long term in supporting the wellbeing of students in what is a rapidly changing environment.
The Covid-19 pandemic and student mental health and wellbeing
The Covid-19 pandemic has affected all areas of Higher Education institutions, greatly changing the student social and academic experience. 68% of surveyed students stated that they think coronavirus poses a major or significant risk to their physical or mental health in the recent Student Covid-19 Insights Survey (SCIS) in England. Significant changes to social and academic student life coupled with increased uncertainty have negatively affected student wellbeing.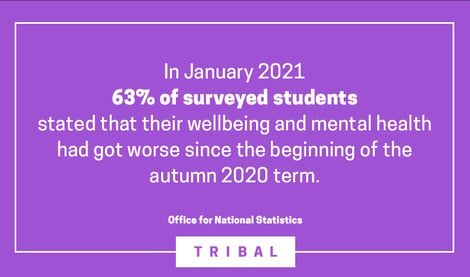 A major issue is isolation, with lockdowns impacting student social life and normal avenues of support. A recent survey by Wonkhe focused on student wellbeing during the pandemic and found increased loneliness to be a clear effect of Covid-19 restrictions. More than half of the students surveyed reported feeling lonely on a weekly or daily basis. The impact of student wellbeing has a knock-on effect on enrolment and student retention. The same survey found 12.6% of respondents were considering dropping out of their courses.
Although digital classrooms have allowed learning to continue during this tumultuous time, it also means that students risk falling off the radar of support services. Wellbeing services are more reliant than ever on remote communications and management of enquiries. In facing the crisis brought on by the pandemic, universities can learn vital lessons for their long-term approach to providing wellbeing services.
How to support student mental health and wellbeing
Student wellbeing is a major challenge for institutions. High levels of student satisfaction is an integral goal for universities, and poor student wellbeing leads to higher rates of student attrition. Institutions have a duty of care towards their students, which is why wellbeing is such a vital measure.
Universities have faced the challenge of altering support services to be remote thanks to digital capabilities during the Covid-19 pandemic. On-campus drop-in centres and face-to-face services will have naturally been reduced. This may have affected normal processes for dealing with incidents and providing support. However, these new processes and ways of working can be seen as a chance to improve the long-term effectiveness of support services.
Jisc and Emerge Education have released a report charting how universities can address the student mental health and wellbeing crisis. The report encourages universities to embrace technology and embed wellbeing practices into every aspect of university life.
A coordinated response is vital between educators and support teams, ensuring student issues are dealt with effectively. Student support software is one of the best tools for achieving a coordinated response. One of the main roles of support services is to handle and assess student enquiries around wellbeing or mental health. A student enquiry management system will efficiently and effectively manage support enquiries and support services in one central place.
Support software will embed within existing student management systems, fitting in within the institution's wider network. Technology can help identify vulnerable students, improve existing support processes, and ensure a coordinated response to improving wellbeing. Having one centralised software solution means often complex processes and procedures are streamlined.
How can technology support wellbeing services?
Support workers and educators will need to be involved for intervention to be meaningful and effective. However, multiple areas of intervention will often make the process more complex. Student support software provides the framework for a coordinated response to student wellbeing.
A student enquiry management system is the solution for managing enquiries and support services in one central hub. Keeping digital records and enquiries centralised helps with safeguarding considerations. Sensitive records are kept safe and secure and can be accessed to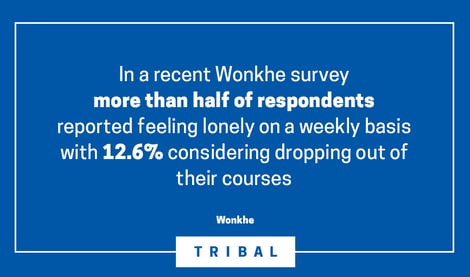 inform interventions.
It's vital that students with any wellbeing issues are able to raise concerns and receive support efficiently and effectively. Students should be able to access support in as few steps as possible. Student support software can help improve access to support services through different digital channels.
Overall, technology can help improve four main areas of a wellbeing support service:
1. Enhanced communication tools
Effective communication tools are important to ensure students receive a response quickly and efficiently. A real-time chat function can provide students with rapid access to support services and is particularly important during the remote nature of study during the Covid-19 pandemic.
The system should securely log all communication with a student in one place, ensuring specific student needs are known. Automated alerts can be set up to send secure notifications to the student, student services, staff members, or guardians with any changes.
2. Centralised welfare management
An enquiry management system will also streamline the process of managing queries, cases, and booking appointments. Increased efficiency means students get the support they need quickly. By centralising case management, all relevant files and notes can be uploaded and accessed by support workers and wellbeing services.
Incident reports can be completed efficiently with customised incident forms, which bring together supporting information and comments. Reports and service queries are recorded and traceable, greatly improving safeguarding.
3. Automation and analytics
Workflows can be automated to process common scenarios, mapping out the process for case management and resolution. Complex cases involving multiple departments and educators are streamlined within one system. Summary statistics around incident resolution can help measure the overall quality of the support service.
Machine learning and analytics insights can help to identify at-risk students for timely support and interventions. Performance gaps are highlighted and analysed so any underperforming students can be identified and supported. Struggling students are therefore supported early on, improving levels of wellbeing and ultimately student retention rates.
4. Improved self-service
An online student support portal provides improved access to a range of support services. Students can log and manage support requests through different channels in their own time. Students can make new enquiries through email or online forms which feed directly into the enquiry management software.
Tribal's student support software includes a support portal, which allows students to track their requests and book appointments remotely. In addition, an online knowledge base answers frequently asked questions providing students with immediate responses to simple queries.
5. Tribal's student support and wellbeing software
Tribal's Student Support & Wellbeing software is designed to seamlessly integrate with existing student management systems. It gives universities the tools needed to empower, guide and engage students. It was designed specifically for the Higher Education sector, streamlining student support in one place.
Provide students with dedicated, tailored support through an easy-to-use software solution. Learn more about how Tribal's student support & wellbeing solution can help universities to improve their support services today.
TOPICS:
SHARE THIS ARTICLE:
Discover Tribal for Higher Education
Find out more about our products and services for Higher Education...
CLICK HERE