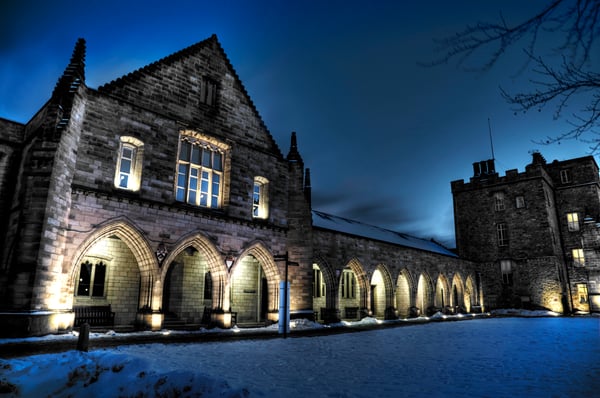 Founded in 1495, Aberdeen is Scotland's third oldest University and the fifth oldest in the UK. Ranked within the world top 140 in the recent QS global league table, Aberdeen is the 'global University of the North'. Aberdeen is a broad based, research intensive University, which puts students at the head of everything it does. It has significant academic strengths and potential across a wide variety of disciplines, delivering almost 370 first degree programmes. Outstanding in a wide range of discipline areas across the entire research spectrum, with 75% of research classified as world leading. Aberdeen has also been credited for its international reach and its commercialisation of research ideas into spin out companies.
The University has over 14,500 matriculated students and 3,600 staff representing 130 nationalities. With annual turnover in excess of £230million and a capital expenditure programme for the last 10 years totalling over £229 million, a further £167 million is planned to be invested in infrastructure. Its capital investment programme is well on the way to creating world class facilities, buildings and environment for students, staff and for the communities of the North-East.
The situation
The University has a vision to provide a quality estate and infrastructure which enhances the University's reputation. To achieve this the University seeks to provide an infrastructure which:
• Supports world class academic activity
• Delivers a high-quality student and staff experience
• Provides a safe, stimulating and quality environment
• Supports public engagement
• Delivers today's needs within a long-term development framework
• Respects and preserves built heritage
• Embraces the principles of Sustainability and Social responsibility
To achieve this ambitious vision the University requires a single source of truth for all information relating to people, process and procedures which relate to the University estate. They require a solution which could integrate into key University systems such as Northgate HR and Agresso Financials and to replace their existing systems (including QFM), which were outdated and not integrated within one another and therefore not able to deliver the required benefits.
The benefits
K2 Asset and Facilities Management has provided the University of Aberdeen with a customisable, easy-to-use, and fully integrated back-office solution, resulting in the realisation of many key benefits.

Everything in one place, a place for everything
The central solution removes the headache of managing multiple systems and thousands of rooms, in multiple buildings, across various sites.

Anyone, Anytime, Anywhere
Improved the staff and student experience within the University with access to key information which improves communication and collaboration anytime from anywhere.

The data is in the detail
The Universities data now works for them, providing actionable insights that help them make more informed space, real estate and capital planning decisions that improve student recruitment and retention.

Combine Convenience and Power in the Palm of Your Hand
Manages all aspects of building maintenance and repair through the K2 Mobile application so jobs can be deployed to house trades or contracted labours faster, smarter and more efficiently. K2 also Improves the scheduling, and utilisation or work, removing manual processes, avoiding duplication and increasing the quality of the Universities estates team outputs.

Stop been Reactive, start been Proactive
Optimises the time spent on maintenance activities with detailed records of reactive maintenance workloads, measurement of planned preventative maintenance and clarity about how effective the Universities resources are being used.

All of the universities space, all in one place
Bring your spaces, floor areas, CAD drawings, departments and people together in one central system so you can plan for greater space efficiency, improve space management, and easily identify opportunities for consolidation.

The solution allows the University to understand your Total Cost of Occupancy by knowing how much space they have, and how efficiently it is being used.
Key statistics
To date there has been a total of over 74,000 jobs sent to the handheld devices, saving over 85,000 pieces of printed paper from the previous business process. The handheld devices not only save paper, but they allow the University to collect real-time data on the work being done, resulting in the possible analysis of cost and time spent on different issues throughout the estate.
Since the implementation of the K2 Mobile solution and improved business process the average wait time for attend a building fault has reduced by 27.3%.
"Tribal K2 is flexible, uses modern technology and is very easy to use. K2 has helped the university drive efficiency savings and has helped promote a single source of truth"
kris Glodek - Estates Systems Engineer