Introduction
Due to the Coronavirus outbreak, the Government Equalities Office (GEO) and the Equality and Human Rights Commission (EHRC) took the decision to suspend enforcement of the gender pay gap deadlines for this reporting year (2019/20), which means there is no expectation on employers to report their data.
Despite this, Tribal has decided to go ahead and prepare our gender pay gap information, as we feel it is important to continue to review and monitor our progress on a like for like basis. We continue to monitor whether the steps taken to address the gender pay gap first reported in 2017 are having any impact.
A gender pay gap is a measure of the difference in the average pay of men and women - regardless of the nature of their work - across an entire organisation. It is different from an equal pay comparison, which would involve direct comparison of two people or groups of people carrying out the same, similar, or equivalent work.


Gender Pay Gap Data
At Tribal, like most UK companies, we do have a gender pay gap, primarily because there are more women than men in our lower paid roles and fewer women in our higher paid roles.

Average male earnings (both mean and median) are higher than average female earnings as there are more men in senior roles than women. As senior roles pay more than junior roles, the fewer the number of women who hold senior roles in a company, the greater average gender pay gap. Therefore, the gender pay gap is a measure of the extent to which women participate in senior management and leadership roles in an organisation.

We are encouraged to see that our gender pay gap is moving in the right direction. Women, who make up 37% of our total UK workforce, now occupy 35.7% of the roles in the upper pay quartile. This has improved from our first gender pay gap report in 2017 when women only occupied 29.2% of the roles in the upper pay quartile.

Overall, our mean gender pay gap has reduced from 14.5% in 2017 to 7% in 2019. Our median pay gap has reduced from 18.8% to 15.7%.

Only 26% of organisations have published gender pay gap information for 2019 and therefore it is difficult to draw meaningful comparisons. Regardless, we continue to develop our own policies and remain committed to providing a fair and equitable environment within which women can progress. We are currently considering our recruitment practices and examining how we can improve our ability to attract and recruit talent which adds to the diversity of the organisation.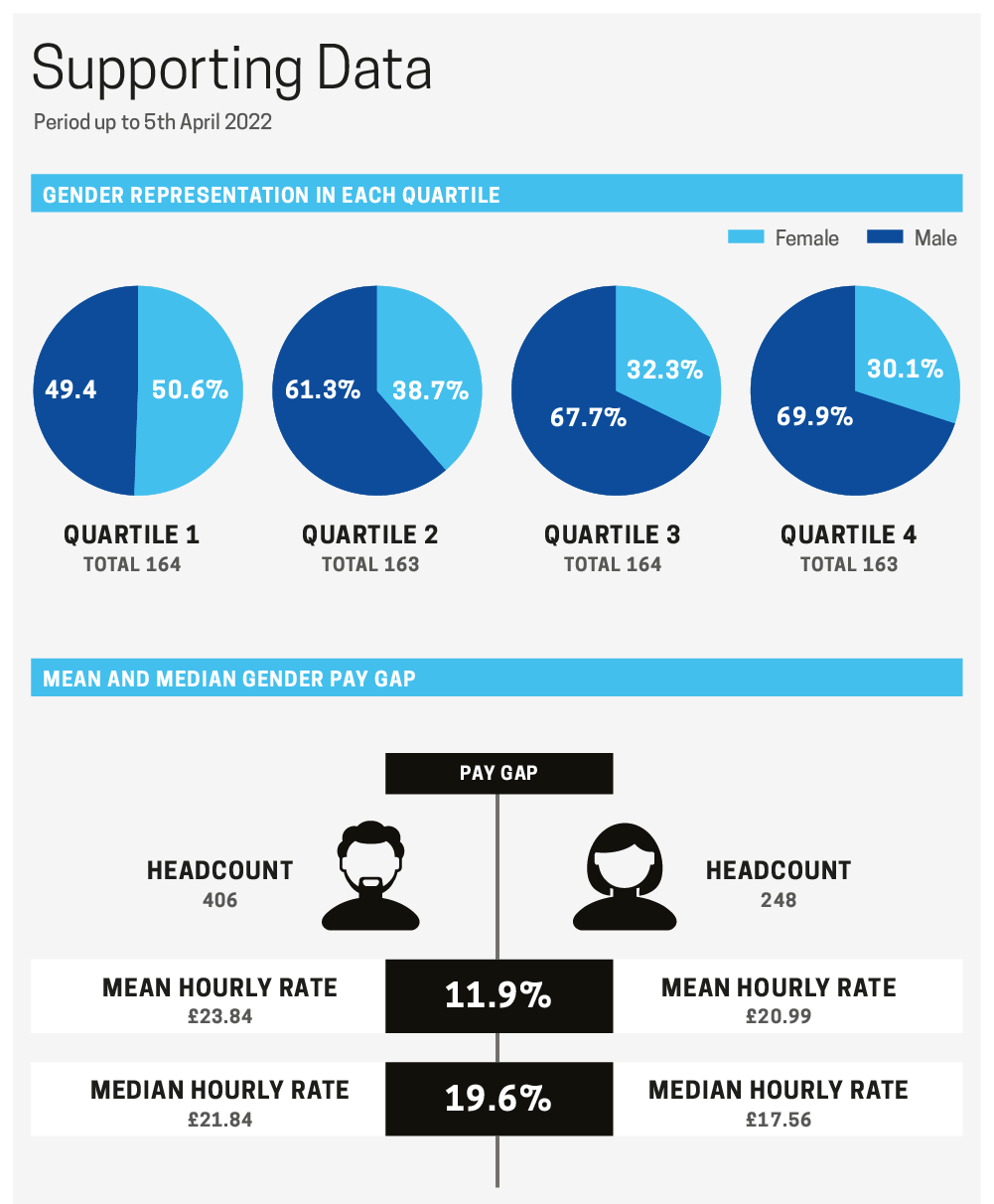 Statutory declaration
We confirm that the data and information presented in this report are accurate and meet the requirements of the UK Equality Act 2010 (Gender Pay Gap Information) Regulations 2017.
Chloe Payne
Director for HR