Beyond software: bringing more to our customer implementations
Partnering with institutions to deliver successful IT change programmes means more to Tribal than supplying the software. Tribal provides the right solutions and thought leadership to ensure your programme is successful and is the only partner that has a full delivery methodology toolkit covering:
the latest global higher education processes;
standard software configuration; and
the latest project and change management tools and templates tailored with industry specific content.
This toolkit is available to our customers and is continually invested in, and delivered by, our professional education and product experts. Our delivery approach is enabling customers to work to shorten project timelines, is scalable to meet the project's needs, and is focused on helping organisations continue to enhance processes and operations more rapidly in response to the evolution of the education sector.
In this post we will explore each of these areas, so you can understand see how Tribal and our team of consultants are bringing more to our customer implementations.
Tribal's best-practice methodology - Aspire
At the heart of Tribal's best-practice solution deployment methodology 'Aspire', is the understanding that any successful IT change programme is an integration of Project Management, Change Management and Implementation workstreams. We may not deliver every element of these, but we do know from 20 years of software implementations and research on leading methodologies what works (and what doesn't!)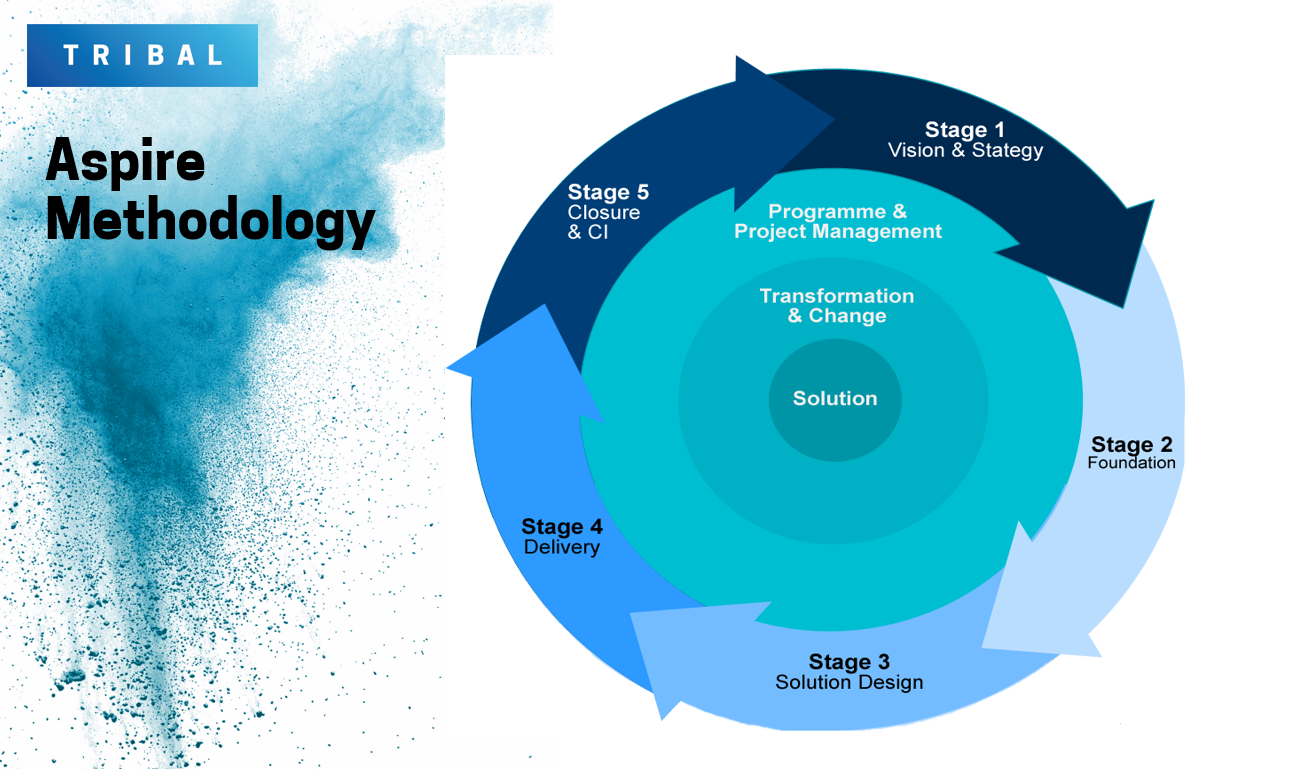 Tribal created Aspire to successfully guide our customers through each phase of the implementation journey. Our methodology and consultants leverage the good practice principles of PRINCE2 and PMI to manage and control the project; Prosci and Kotter models to support the effective delivery of change management activities; Agile and Scrum to manage software development; and Lean Six Sigma to support business process reengineering.
It is underpinned by this set of guiding principles:
Change is always benefits-led
Technology-enabled, but people-centred
Change needs active management
Change is a continuous process, and the project is there to start it
Projects requires a scalable approach
A sustainable solution is a successful solution
Good practice models result in fast-tracked implementations
Project management should be risk-centred
Integration should consider the full eco-system of programs
Best practice methodology sets out what needs to happen, not who does it
For some customers adopting the Aspire methodology will give the necessary structure to help plan out the project, others may have experienced professionals on the team with their own preferred approach. In either scenario, having this available gives an added level of assurance that key deliverables and controls are in place.
Promapp process model to support our standard configuration
Tribal is the only software partner on the market that has invested in defining over 200 SITS:Vision process models to accompany our Tribal Framework Build. We use Promapp, a leading global BPM provider, to enable us to capture and share our process collateral.
Promapp enables us to go beyond the traditional MS Visio diagrams. With detailed tasks and notes and the ability to integrate links, images, documents, we can now supply a far richer array of information to our customers. And by using Promapp we can give project teams direct access to our site, where they can review, navigate and supply feedback on the process models.
The Tribal Framework Build
The Tribal Framework Build (TFB) delivery approach has been developed in response to market demand for a more rapid SITS: Vision deployment option. It is based on a premise of making a framework build available to customers from the outset of the project, that they can then build on and refine as part of their overall delivery approach.
Customers around the world are benefiting from this approach, we are seeing that:
a proportion of requirements are already being fully or partially met by the framework build, meaning project resources can be redirected to filling the gaps,
the full student lifecycle demonstration of SITS functionality at the start of the project is resulting in improved stakeholder engagement and understanding of the solution,
having TFB configuration available as a reference is an invaluable tool for early knowledge transfer within the project teams
Change Management templates
Having pre-configured templates also applies to the change workstream. A Tribal Change Consultant can kick start your change efforts by sharing templates, working examples and customer lessons with tailored change tools that include sector-based content.
Every institution is of course different, but there are always areas of commonality across projects – meaning:
design principles and strategic outcomes have common themes,
specific stakeholder groups will consistently engage with the same modules, and
educating business users on key terminology is required on every project.
In all these areas we give institutions a starting point from which to review and refine and this means they can fast-track knowledge transfer to the change team.
Change is always benefits led – so how do you benefit?
Based on our global experience we keep refining what good looks like. Whether that's in relation to our implementation methodology, our standard configuration, process models, or engagement tools to support the change journey. We supply you with a starting point to build on, and work alongside you to ensure you can get the most out of what we can offer.
How we help is up to you. We not only have the tools, but we have an experienced team with unparalleled product knowledge of our current software and future roadmap. Our team are educational experts who have lived to tell the tale of many an implementation. And we have invested in qualified consultants to support the software industry's growing recognition and importance of project, change management, and business process improvement.
Tribal's mission is to empower the world of education. This means we are not just a software vendor we are a long-term partner. The success of your IT change programme is our success too, so we continually invest in updating our toolkits to leverage the latest industry research and keep across key trends to bring value to our implementation partnerships. Talk to us now about our holistic approach to software delivery and meet the consultants with the skills and knowledge that can support you on this journey.
TOPICS:
SHARE THIS ARTICLE:
Discover Tribal for Higher Education
Find out more about our products and services for Higher Education...
CLICK HERE