Leeds City College pave the way in revolutionising improvement in English and maths
This month, Leeds City College proudly became the first provider in the UK to achieve the Further Education and Skills Quality Mark Award. Their successful accreditation sees them lead the way in revolutionising how Further Education and Skills providers approach the challenges of quality improvement in English and mathematics.
The Quality Mark is an internationally recognised quality standard for excellence in English and mathematics. Currently, Tribal have over 1,000 settings who subscribe to this standard, which includes Early Years, Primary, Secondary and special school provision.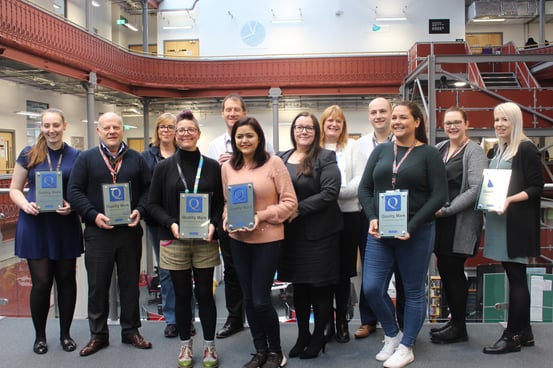 Based on the Quality Mark's significant reach and impact nationally, Tribal identified an opportunity to really help and support our colleagues in the Further Education and Skills sector. The changing landscape for the sector, with new inspection frameworks and conditions of funding, means that English and mathematics is extremely high on the national agenda.
In January 2019, Leeds City College and Tribal embarked upon a 10-month pilot to adapt the Quality Mark standard to make it fit for purpose and contextual for the Further Education and Skills sector. The pilot included 'deep dives' into all provision types, data utilisation, scrutiny and challenge of governance and leadership as well as a significant volume of observation/walkthrough activity. Gemma Simmons-Blench, Executive Principal at Leeds City College stated, "We were excited about being the pilot centre for the Quality Mark as English and maths has such a high profile. Going through the process has most definitely supported our own continuous improvement here at Leeds City College."
The award represents another huge leap forward for Leeds City College and other Further Education and Skills providers across the country, in their ability to deliver improved provision in English and mathematics. Carol Layall, Head of English and maths at Leeds City College testifies that the "Quality Mark has helped us identify where the focus needs to be. It has given us confidence in what we're trying to achieve and have a supported discussion about how to go about developing strategies to improve. We've now got the knowledge to really drive our provision forward."
Stella Owen, Quality Mark Director has spoken of how the success of the pilot has led to significant engagement of Further Education and Skills providers across the UK. "Thanks to the unwavering commitment and dedication of Leeds City College and the Quality Mark team, we are proud to have launched a tool which is meaningful and valuable to our colleagues in Further Education and Skills. The level of engagement and interest from providers has surpassed our expectations and we are thrilled that we will be part of improving the lives of students across the country."
Hear directly from Leeds City College how they are transforming how they make improvements in English and maths.
TOPICS:
SHARE THIS ARTICLE:
Discover Tribal for Further Education
Find out more about our products and services for Further Education...
CLICK HERE