The closure of Australia's borders during the pandemic was a necessary step to protect public health. However, the resulting freeze on international student recruitment in Australia had a huge impact on its education sector as a whole, which is still feeling the effect two years later. As the borders reopen and travel bands lift, institutions now face the challenge of rebuilding in a post-pandemic world with tighter resources. International student recruitment will play a vital role in rebuilding the sector, so the importance of effective international student recruitment is more pressing than ever.
After a gap in welcoming international students, educational institutions face both challenges and opportunities in the post-pandemic landscape. The challenge lies in rebuilding to pre-pandemic levels despite increased competition from other countries, but the opportunity is to rebuild stronger than before utilising insights and data. Over the last two years, student needs have shifted and changed as industry trends are ever evolving. Understanding these changes will be a vital part of leveraging effective international student recruitment campaigns.

Here, Tribal explores the challenges of the last two years, the emerging trends, and the opportunities in international student recruitment. The focus is not just on recovery but on utilising the right tools to stay ahead of the competition on the world stage.
Understanding the challenges of the new landscape
The pandemic has had a huge impact on international travel and as a result, a drop in international student numbers. With the closure of Australia's borders from March 2020, the international student community and prospective overseas students were directly affected and faced the unknown in an ever-evolving situation. Many prospective students opted to put their plans on hold, or even to pivot away from Australia to other popular destinations such as Canada, the UK or USA. In comparison to pre-pandemic levels, the numbers are stark.
As a result, international student arrivals statistics for April 2020*1 saw nearly a 100% drop year-on-year. Only 30 international student visa entries were recorded in April 2020, a decrease of 44,470 students compared to April 2019. Australia was effectively closed to international students from this point.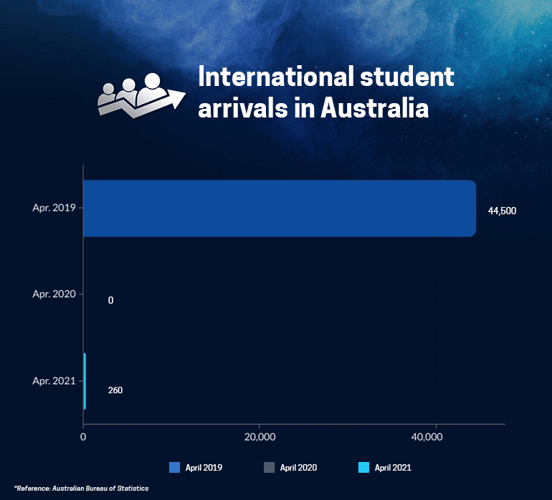 Online delivery causing concern
A major challenge for all educational institutions was the pivot towards remote and online delivery in light of the pandemic and this was a topic of consideration for international students during this period. This was demonstrated in the research, with a survey of international students produced by IDP Connect towards the end of 2020. The third IDP Connect International student Crossroads Research*2 surveyed more than 5,000 international students who had offers or were current students in the UK, USA, New Zealand, Canada and Australia. The results highlighted the importance of face-to-face teaching for international students.
The majority of those surveyed (44%) said they were only willing to undertake up to three months of remote study before moving to face-to-face. In the same study, 58% of students surveyed that were planning to study in Australia said they were likely to switch destinations if they were able to complete face-to-face study elsewhere. This shows how concerns about a blended approach to learning were common during the pandemic, as institutions mixed online teaching with face-to-face when possible. At this stage, only 8% of respondents preferred to defer instead of quarantine.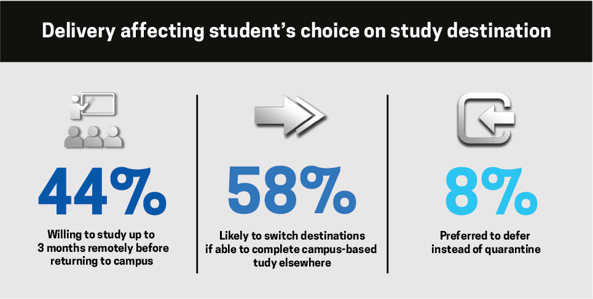 The fourth IDP Connect International Student Crossroads Research*3 was released in April 2021 and confirmed these trends. 43% of international students, with applications to Australian institutions, declared they would defer until they can study face-to-face. Only 7% of respondents were willing to continue with plans if courses were to be conducted fully online. The survey also focused on applicants that planned to defer or withdraw. Although a range of factors were provided, 38% stated it was due to travel bans.
During the pandemic, institutions funnelled resources into remote delivery and student safeguarding. This was at a time when funding was significantly impacted, causing further strain on budgets. Students who had originally opted for on-campus student experiences were instead receiving remote delivery as a necessity. This may have impacted the decision-making process for other international students who may have instead opted for other destinations without such stringent border rules and the previously mentioned research seems to support this.
Challenges remain in 2022
What was effectively a two-year freeze on international student recruitment is set to have a significant impact on all levels of the Australian higher education system for years to come. Not only has this impacted university applications from overseas students but all levels of the system. For example, English language courses such as ELICOS which prepare international students for further studies were also affected. This means that a predictable pipeline of international students moving between ELICOS to further higher education was put on hold during the pandemic. It may take many years for this pipeline to provide the same stream of engaged international student applications within Australian universities.
As the world reopens in 2022, so too will the flow of international students. New Horizons research by IDP Connect*4 surveyed prospective students considering international study. The study aimed to inform the higher education sector post-pandemic, especially in international student recruitment. Of the surveyed prospective international students, 71% intended to study in 2022.
However, evidence from the same research shows Australia falling behind other destinations as the first-choice destination for international students in a post-pandemic world. The effective freezing of international student enrolment during the pandemic put Australia on the backfoot compared to other popular destinations for international students. Australia was selected as the first-choice destination for 16% of international respondents, behind the UK (17%), the USA (17%), and Canada (39%). As the Australian borders have reopened and students return, the challenge now is to rebuild in an extremely competitive space.
Statistics on international travel for January 2022*5 from the Australian Bureau of Statistics highlight that international student arrivals in January 2022 were 28,030, up by 27,670 students when compared to January 2021. However, arrivals in January 2022 were down by 68.9% compared to pre-pandemic January 2019. This shows that although there has certainly been a significant increase now the borders are open, there is still a way to go to return to pre-pandemic numbers.
New opportunities for recruiting international students
The significant challenges that the education sector overcame during the pandemic will help to shape new opportunities in a post-pandemic world. For example, the large number of resources invested in remote delivery and home-country education centres for international students can be leveraged for future recruitment. Although many international students favour campus-based education in the international country, a growing segment of this audience is considering a hybrid approach.
The previously mentioned New Horizons research by IDP Connect*6 found that 81% of respondents were considering campus-based study overseas. However, 18% were considering home country study with international campus-based learning to complete their study. A further 10% were considering fully remote online study, and another 10% were considering a campus-based approach in their home country with a partner of the international university. This widens the scope of delivery to international students, broadening the prospective student base.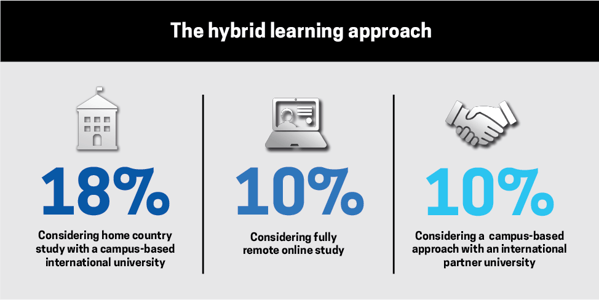 This highlights how new international student segments are emerging in the post-pandemic world. It's clear that although most international students want to retain face-to-face campus-based activities, there is a significant portion that is seeking a hybrid or fully online approach. Targeting these different segments with the right messaging and delivery methods is vital to rebuilding.
This hybrid approach to international studies combining home-country and overseas study has presented an emerging opportunity for institutions. The New Horizons research found that individuals that had only opted to apply for overseas campus-based opportunities were extremely likely to consider home-country study if given a selection of incentives. Many respondents were extremely likely to apply for study in their home country if there were designated study hubs available to provide learning and career support with peers. In addition, the inclusion of work rights in the international institute's country is listed as a major incentive.
Improving student outreach and recruitment
The pandemic took a heavy toll on the higher education industry, with a freeze on international student recruitment playing a big part in this. By September 2021, 20% of university workers lost their job in the pandemic*7. The mission is to rebuild the sector, but with job losses and tightening resources, institutions need to do more with less. With new and emerging groups of international students seeking on-campus, remote or hybrid delivery approaches, marketing campaigns need to be unique to be effective. Properly mapping and managing the application funnel is a vital first step in expanding the reach to these new prospects.
A higher-education focused customer relationship management (CRM) system helps to streamline the recruitment process, providing sight of multi-channel marketing campaigns and the results. The best CRM software provides a base for a unified approach to targeted marketing and international student recruitment. It can also provide insight into individual student journeys from application to graduation and beyond. This is particularly important if students are moving between partner institutes or working remotely. Student insights are a vital part of rebuilding international student trust in the Australian education sector in the post-pandemic world.
Tribal's Student Marketing and Recruitment Solution
Tribal's education-focused CRM solution not only helps you create, execute, and monitor the effectiveness of your marketing and recruitment campaigns but it also helps institutions:
Better understand their prospects

Improves enquiry handling

Deliver a more personalised marketing approach

Automate tasks to focus on other more pressing matters

A

nd lastly, monitor and measure return on investment
From initial engagement through to admission, Tribal's Student Marketing and Recruitment solution will create an exceptional experience helping you turn your prospects into students.
Download our free guide full of top tips to make the most out of your CRM solution.


* References:
1. International student arrivals statistics for April 2020: https://www.abs.gov.au/statistics/industry/tourism-and-transport/overseas-arrivals-and-departures-australia/apr-2020
2. Third IDP Connect International student Crossroads Research: https://www.idp-connect.com/canada/articles/student-insights/crossroads3-international-students-covid19-survey
3. Fourth IDP Connect International Student Crossroads Research: https://www.idp-connect.com/articles/student-insights/crossroadsiv-international-students-remain-willing-to-quarantine-and-get-vaccinated-for-in-country-experience
4. New Horizons research by IDP Connect: https://www.idp-connect.com/usa/articles/international-market-trends/us-press-release-new-horizons
5. Statistics on international travel for January 2022: https://www.abs.gov.au/statistics/industry/tourism-and-transport/overseas-arrivals-and-departures-australia/latest-release#arrivals-international-students
6. New Horizons research by IDP Connect: https://www.idp-connect.com/usa/articles/international-market-trends/us-press-release-new-horizons
7. 20% of university workers lost their job in the pandemic: https://monitor.icef.com/2022/02/tens-of-thousands-of-international-students-return-to-australia/