In reading the State of the Nation Report on Student Mental Health in Higher Education, it's clear that one of the overarching challenges that the sector faces is inaccurate, incomplete, and uncategorized wellbeing data. So in this blog, we examine the extent of the reporting issue, and what this means for stakeholders tasked with improving higher education student wellbeing…
To ensure the integrity of the raw statistics for his trailblazing study, Director of Institutional Research at Student Ventures, Lee Rawlinson, approached Universities across the UK with Freedom of Information Requests. These requests were timed to relieve the reporting burden on universities by coinciding with the HESA and UCAS reporting and focused on 20 datasets (detailed in the report).
Whilst virtually all universities responded to FOIs over the decade the study took place - reporting a minimum of double the number of student mental health cases in recent years - the majority of UK universities were unable to report:
Mental health support volumes

Numbers accessing counselling

Numbers accessing further counselling
Rawlinson shared his commentary on his findings:
"An observation from my findings over the years is that there is no consistency across Higher Education institutions in the way they report data – particularly mental health data. This makes it incredibly difficult to establish a baseline. As a sector there isn't enough consistency across departments or institutions to benchmark, to establish what good looks like, or identify where or what the challenges are. The only reliable, stable data we have to drill-down on is the 'no longer in HE percentage'. Universities have reported this data, religiously, like clockwork over the last 10 years. This is part of the statistical returns to HESA, which then forms part of the data for the Office of National Statistics. What this means, is that potentially a university will only really know that things were bad, when a student has left HE. And that's a major problem."
Data categorization gaps - what the study could not say
Concerningly, the reason for students leaving university is rarely captured in detail, highlighting that currently, data categorisation is a real problem for universities. A stark example of this is in the case of 'student deaths', wherein 27% of cases, universities reported the reason for death as 'death', and a further 22% as 'unknown'.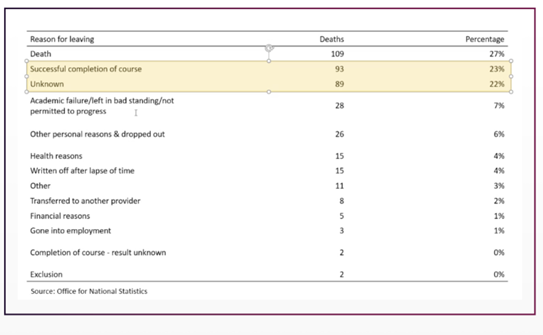 The quality and granularity of the data reported year on year also made it very difficult to determine over the decade, whether the individual HEIs had improved:
Mental health services

Availability of services

Accuracy of reporting, or

A combination.
Analysing the outlying numbers in the datasets did not reveal very much either, other than that case volumes have increased significantly, and this has not been uniformly matched by an increase in spend or provision of services across the sector.
Wellbeing spend data lacking in granularity
The research data showed that wellbeing spend per student varies massively across the sector, with some universities investing heavily and others very minimally, making it difficult to establish a useful benchmark.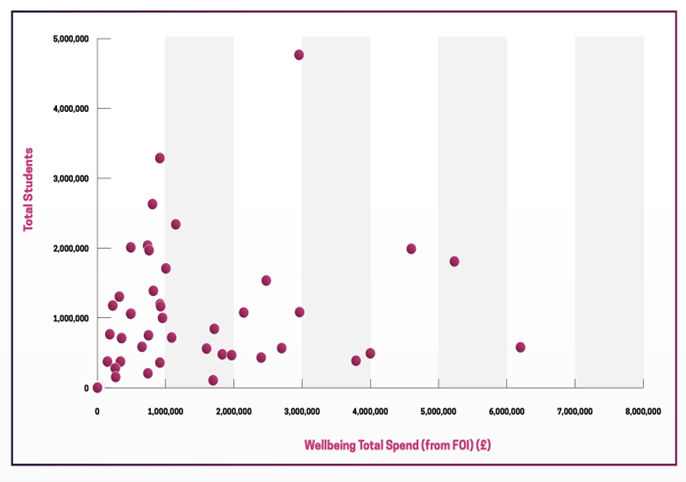 However, results from Tribal's UK Financial Benchmarking databank show that spend per student FTE on counselling and wellbeing services increased from an average of £14 per FTE in 2015/16 to £44 per student FTE in 2021/22. So spend has increased over the decade.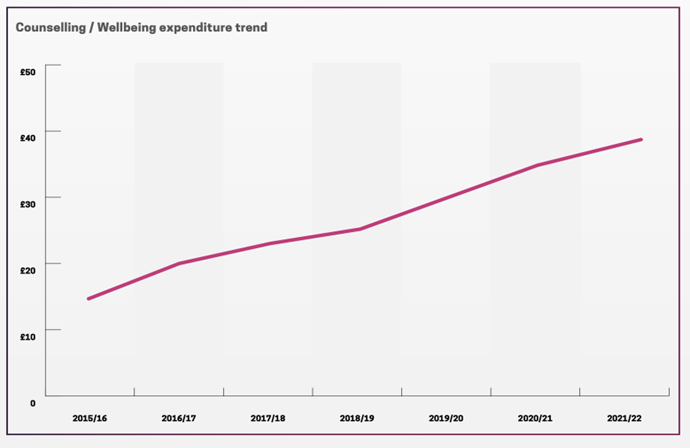 Yet where investment is significantly more than the average per student, the data is not readily available to explain whether the investment is in service offering, staff headcount to deliver services, technology to facilitate delivery - or again, a combination.
Granularity of information is vital for universities to measure the extent to which their investment is bringing about uplift in student wellbeing, and to determine what more must be done. Indeed, without granularity of data, there is a very real danger that the processes and systems that universities put in place, will fall short of what they are intended to do.
Ultimately, university leaders across the HE sector need to know more about student mental health if they are to shape well-being strategies that will truly help young people and safeguard their future.
Of course, the onus is not just on university leaders to put in place the right people, process and technology. It requires commitment across the sector - from governing bodies, accreditation agencies, university associations, qualification authorities, mental health advisors, and solution providers – to shape, fund, implement and support total reform.
Opportunities to significantly improve insights and reporting
To effectively direct the course of student wellbeing support strategy in higher education, the sector needs to commit to closing data gaps by:
Accurately capturing and record mental health data and data about the services provided to students that disclose and request support

Ensuring the data is categorised in granular detail wherever possible, and

Making the data available at the touch of a button, to respond to FOI requests, but more importantly to aid the university's decision-making on student mental health and wellbeing agenda.
The good news is that perhaps one of the easiest things to get right with the help of software, and a critical part of improving student support services of all kinds, is to ensure that data capture processes:
Comply with GDPR and that all data is stored securely and safely,
Detail needs at recruitment/enrolment stage,

Store data centrally to enable effective monitoring and granular reporting,

Allow for effective categorisation of information to generate actionable insights,

Seamlessly (and securely) enable data sharing across departments with role- based permissions according to data sensitivity, and crucially

Capture the effort involved in mental health cases to fully understand the demand for services and inform workload planning.
How can Tribal help?
As well as helping universities across the UK to capture data more accurately and streamline and automate processes, Tribal's Student Support & Wellbeing solution enables institutions to be proactive with their data and personalise support for everyone who needs it. Some leading universities in this space are even using our technology to identify 'at risk' students, before they disclose or seek help, so that they can tailor interventions in time to make a difference.