As the Quality Assurance provider for the National Tutoring Programme (NTP) Tribal are at the forefront of working within the Tuition sector. We have always recognised the importance of our work in helping to raise the quality of service and provision for pupils and we're delighted to share this thought leadership piece focussing on safeguarding. We've shared this widely with our Tuition Partners and we'll be sharing more thought leadership articles in the coming months to support sector growth, learning and expertise and improve outcomes for all.
We are pleased to be sharing the second part of our three-part thought leadership series on safeguarding. Each builds on the previous, to provide you with a thorough and insightful guide to what best practice looks like and how to implement it. They are designed to be practical with clear links and signposting, so you will have all the information you need at your fingertips to raise the quality bar in your organisation and best serve our schools and pupils. If you missed the first part, you can see it here Part 1: Putting safeguarding at the heart of your operating model.
The second part deals with how to manage safeguarding risk. Over the next few weeks, we will share our final part in this series, part 3 which will look at raising the quality bar for safeguarding in our organisations and across the system.

Introduction
Safeguarding is fundamental for all organisations working with children, including all of us working to improve outcomes especially for disadvantaged pupils as part of the National Tutoring Programme. Effective safeguarding must therefore be a priority for all of us, requiring consistent and ongoing focus. The NTP's Quality Assurance (QA) Framework Criteria sets out key requirements for safeguarding and safer recruitment in Element 2 and establishes the relevant criteria. Further guidance is provided in the QA Guidance Handbook. An effective TP should have a clear understanding of the required criteria and must be able to provide evidence of the outlined criteria embedded within the core of its organisation.
Our recent Quality Assurance Reviews focused on safeguarding and identified many areas of good practice, including a strong commitment by TPs to the highest standards of safeguarding. Through these reviews, we have also noted some common areas which could be strengthened. We are therefore embarking on a three-part series on safeguarding which will be circulated via our newsletter in the coming weeks, which aims to help you strengthen safeguarding within your organisation:

Part 2: Managing Safeguarding Risk
This is part 2 of a three-part series focused on safeguarding. In part 1, we introduced a diagram for putting safeguarding at the heart of your operating model. The diagram below illustrates how Tuition Partners can put safeguarding at the heart of their organisation, and encompasses policies & tools, processes & procedures, and culture & values. We highlighted that these three broad categories, and all the components within them, need to operate in a connected and comprehensive way to keep children safe.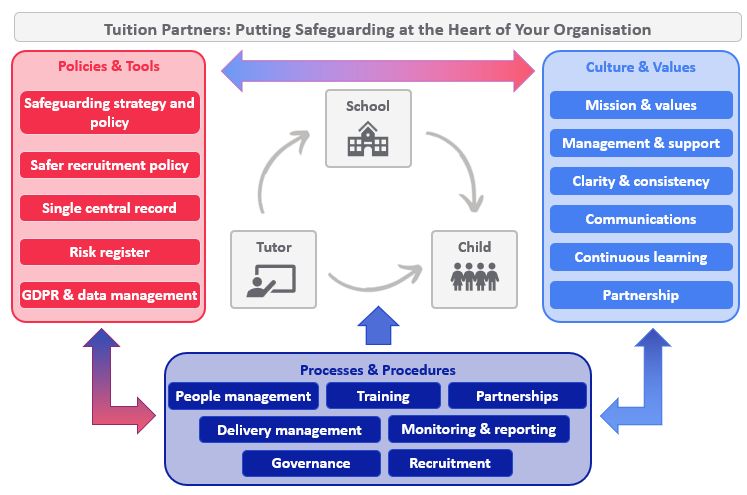 While having the right policies, tools, processes and procedures play a pivotal role in keeping children safe, it is important to recognise that no procedure or policy is fail-safe given the complex and multifaceted nature of disclosure and management of safeguarding concerns. The stakes are high if things go wrong; failure to effectively follow and implement safeguarding procedures is not only detrimental to a pupil's wellbeing and safety but could also severely undermine the reputation of the TP and the legacy of the National Tutoring Programme as a whole. Effective safeguarding needs proactive risk management. In Part 2 of our safeguarding series, we are focusing on how effective, proactive risk management is an essential part of an organisation's approach to safeguarding.
Establishing the risk management basics – the single central record
Effective risk management for safeguarding considers all three broad categories in a TP's operating model – policies & tools, processes & procedures, and culture & values – in anticipating and mitigating risk, and reducing the negative repercussions for the child, TP, and the whole sector. An important underpinning mechanism for all TPs is the single central record: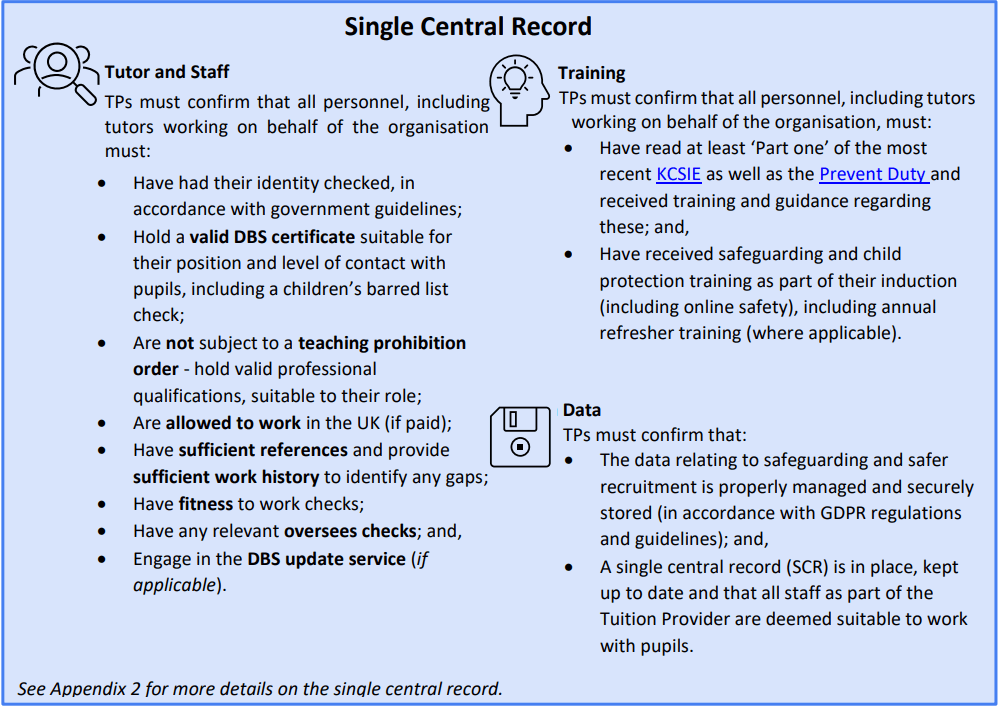 Source: Adapted from the QA Guidance Handbook (p. 17-18).
Practical tips for proactive risk management
Here are some practical tips for proactive rather than reactive risk management. It is important to note that these relate to various criteria in Element 2: Safeguarding and Safer Recruitment outlined in the QA Guidance Handbook, QA Framework, and QA Framework Criteria.
• It is important to proactively update policies, not just when they expire. As previously mentioned, the KCSiE guidance has been recently updated. It is important to integrate anticipated changes into the organisation's strategic plan and ensure these changes are coherent and consistent with other key components (i.e., training is also updated). See criterion 2.1 Policies and Procedures.
• Safeguarding risk management must be embedded into conversations at every level of the
organisation, e.g., risk management training, team meetings, operational reviews and senior leadership team meetings. See criterion 2.2 Values, Culture, and Awareness.
• TPs must take an investigative approach to safer recruitment. In November 2022, Tribal hosted The Safeguarding Alliance to deliver a webinar on Safer Recruitment, which provided guidance and information on how to ensure safer recruitment practices. As mentioned in the webinar, safer recruitment is not a tick-box exercise, it is an ongoing journey where we need to be proactive. Appendix 3 includes a summary of a few key takeaways from the Webinar. See criterion 2.3 Recruitment.
• Regular reviews of the risk register (at appropriate levels of the organisation) help to ensure that it is up-to-date, and that risk is pre-emptively identified, mitigated, and resolved. Also, there should be a regular refresh of staff safeguarding checks throughout employment. See criterion 2.5 Monitoring and Reporting.
• Monitoring and reporting must be firmly embedded in operational processes at all appropriate levels; they must be routine and meaningful, and data must be reviewed to assess future risks and changes. See criterion 2.5 Monitoring and Reporting.
• TPs must provide easily accessible and effective support to employees so that they can ask questions and seek help on safeguarding issues. This includes having clear organisational structures and lines of accountability, including for escalating concerns. See criterion 2.6 Training, Support, and Guidance.
• It is important to establish a strong relationship, and clear communication protocols, with schools for reporting safeguarding concerns so that when a concern is flagged, TPs are already aware of the school's processes & procedures. Managing safeguarding across multiple organisations and individuals (i.e., schools, teachers, TPs, tutors, pupils, and at home) with multiple policies or approaches is very complex, so investing in this area ahead of time is particularly valuable. See criterion 2.8 Partnership.
• Another crucial factor is recognising the importance of strong tutor-pupil relationships which not only play an important role in academic outcomes but can also help children feel safe enough to disclose information to someone they trust.
Conclusion
When it comes to mitigating risk in safeguarding, being proactive is key. This needs to run through everything we do – our policies & tools, processes & procedures, and culture & values. Simply being reactive can lead to gaps in compliance, leave children vulnerable, and expose our organisations, and the National Tutoring Programme, to reputational damage.
Being proactive in safeguarding, as well as mitigating risks in other areas, requires a culture of continuous learning. It is important we should strive to refine, improve, and increase our impact. Reflecting on existing processes to update and improve procedures is important in this journey of continuous learning. In our next article (Part 3), we will be looking at how organisations can improve beyond compliance and shift mindsets to be more agile in the continuously changing environment.
Please click here for the full list of references and further reading.
TOPICS:
SHARE THIS ARTICLE:
Discover Tribal for Schools
Find out more about our products and services for Schools and Early Years...
CLICK HERE