We are pleased to be sharing the third and final part of our thought leadership series on safeguarding. Each builds on the previous, to provide you with a thorough and insightful guide to what best practice looks like and how to implement it. They are designed to be practical with clear links and signposting, so you will have all the information you need at your fingertips to raise the quality bar in your organisation and best serve our schools and pupils. If you missed the first two parts, you can see them here:
Part 1: Putting safeguarding at the heart of your operating model.
Part 2: Managing safeguarding risk.
The third part deals with how to raise the quality bar in safeguarding, both within our organisation and across the sector as a whole.

Introduction
Safeguarding is fundamental for all organisations working with children, including all of us working to improve outcomes especially for disadvantaged pupils as part of the National Tutoring Programme. Effective safeguarding must therefore be a priority for all of us, requiring consistent and ongoing focus. The NTP's Quality Assurance (QA) Framework Criteria sets out key requirements for safeguarding and safer recruitment in Element 2 and establishes the relevant criteria. Further guidance is provided in the QA Guidance Handbook. An effective TP should have a clear understanding of the required criteria and must be able to provide evidence of the outlined criteria embedded within the core of its organisation.
Our recent Quality Assurance Reviews focused on safeguarding and identified many areas of good practice, including a strong commitment by TPs to the highest standards of safeguarding. Through these reviews, we have also noted some common areas which could be strengthened. We are therefore embarking on a three-part series on safeguarding which will be circulated via our newsletter in the coming weeks, which aims to
help you strengthen safeguarding within your organisation:

Part 3: Raising the Quality Bar for Safeguarding in our Organisations and Across the Sector
This is the third in a three-part series focused on safeguarding. The first outlined a framework for putting
safeguarding at the heart of a tuition partner's (TPs) operating model. The second focused on risk
management, and how TPs can adopt a proactive approach. This final post in the series looks at raising the
quality of TPs safeguarding approach, through building a culture of continuous improvement.
Building a culture of continuous improvement for safeguarding
Although continuous improvement needs to be embedded in policies and procedures, in this article we will
look particularly at the role of culture & values in continuous improvement.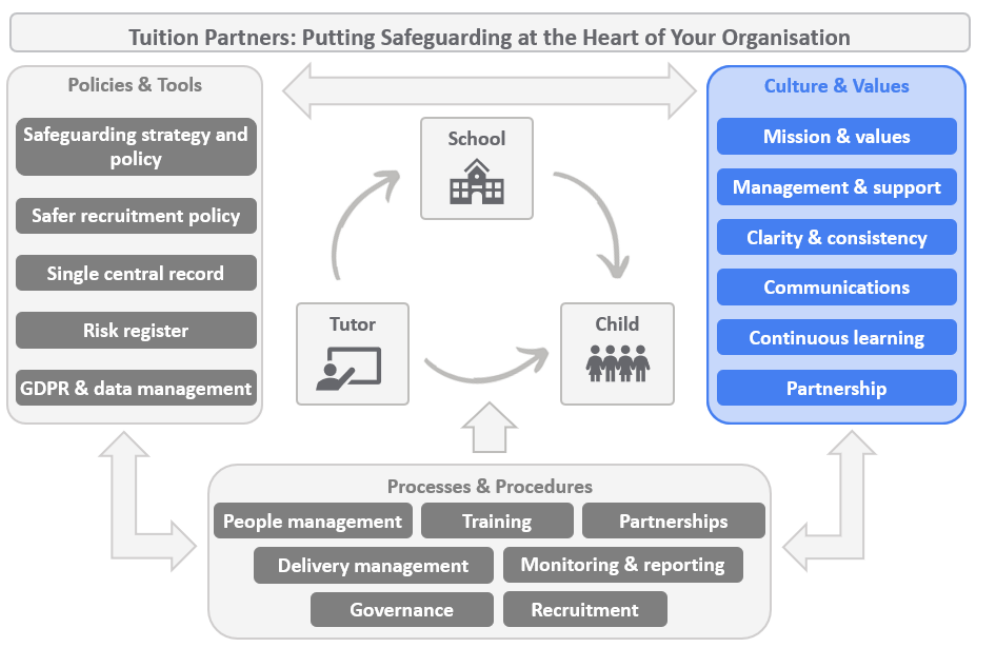 Policies and procedures have an important role to play in risk management, which was covered in the previous article. Culture & values, however, can be more challenging to define but often play a pivotal role in safeguarding. As outlined in Keeping Children Safe in Education (KCSiE), safeguarding is "everyone's responsibility". An organisation's culture & values can ensure that everyone recognises and accepts this responsibility. Culture & values are made up of various components. Outlined below is practical guidance for each of the components in the above diagram.
Mission & values – putting the child's learning, experience, and safety at the heart of an organisation's operating model requires a commitment from the top, ideally articulated in the mission and values of the organisation.
Management & support – staff need to be able to seek the guidance they need from skilled
professionals around them. Effective safeguarding relies on a supportive and open senior
management team that staff can go to with concerns and ideas for improvement.
Clarity & consistency – policies and processes should be consistent with each other and with relevant guidance. They should be clearly articulated, so that they can be easily adopted. They also need to be consistently adhered to.
Communications – this component is two-fold; firstly, TPs should ensure that all team members are knowledgeable on safeguarding and aware of their role's responsibilities. Staff must be aware of how to follow up on concerns, and when safeguarding policies change. Secondly, TPs should provide opportunities for staff to easily raise safeguarding concerns and issues; this could happen through regular training, dedicated channels, line management meetings, and other operational support mechanisms.
Continuous learning – a commitment to ongoing learning at the individual and organisational level could be brought to life through regular training (formal and informal), learning moments, and purposeful conversations. See below for more thoughts on the learning organisation.
Partnership – dialogue with schools to build trust, establish a common language, and to ask for
feedback on a TP's safeguarding approach can be beneficial. TPs also need to be cognisant of the challenges that schools and teachers face. They must consider how to communicate with school staff in the most efficient and effective way possible, recognising that each school has its own safeguarding policies and procedures.
Further food for thought – 'the learning organisation'
David A. Garvin's seminal 1993 paper in Harvard Business Review identified five features of a learning organisation which remain relevant:
1. Systematic problem solving – using data rather than assumptions for decision-making. Organisations should follow a clear process to identify and ultimately solve problems (see
diagram on the right). For organisations committed to continuous learning, this process is cyclical.
2. Experimentation – similar to systematic problem solving, experimentation is focused on opportunities and expanding horizons rather than addressing difficulties.
3. Learning from past experience – reviewing successes and failures, assessing them systematically, and sharing lessons openly and accessibly (where appropriate). In relation to
safeguarding, learning from our own past experiences, as well as experiences of others or case studies, can be extremely effective. However, it is important that the pupils and adults
involved in the situation remain anonymous.
4. Learning from others – both inside and outside the immediate environment or organisation, which means being receptive to criticism and consulting with customers (schools) and users (pupils) to create opportunities for receiving feedback and further improvement.
5. Transferring knowledge – knowledge needs to be spread quickly and efficiently through the organisation and potentially beyond. This could relate to safeguarding policy changes at a national or organisational level, or an organisation being restructured affecting safeguarding processes, and much more. It is integral that there is consistency and clarity in the messaging internally and externally (i.e., partner schools). We have provided a few examples of how these five features may be relevant for safeguarding for a TP, however, TPs may want to reflect on how these features relate to their own unique organisations.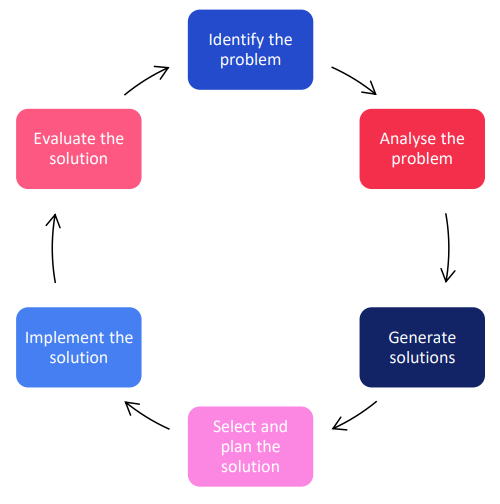 Conclusion
The National Tutoring Programme has the potential to positively impact the lives of thousands of disadvantaged children, both during and beyond the programme, if we can continue to build the case for tutoring. We all have a role in making tutoring the best it can be, and this requires a commitment to continuous learning and improvement, which encompasses all aspects of the quality framework, but with safeguarding at the heart.
Please click here for the full list of references and further reading.
TOPICS:
SHARE THIS ARTICLE:
Discover Tribal for Schools
Find out more about our products and services for Schools and Early Years...
CLICK HERE