The buzz globally has been for a while around employability and it will reach 'fever pitch' as countries emerge from COVID with their economies in various states of distress. As I'm sure you are all aware the debate has been centre stage in HE for a while and Brett Berquist (Director International, University of Auckland) has describe it as the 'new arms race' in international education.
The opening panel at the online PIE conference tackled these issues with our own Nannette Ripmeester (i-graduate Europe & North America*) joining a distinguished roster of guests including David Pilsbury DVC (International Development) from Coventry a great supporter of i-graduate's work.
(*alongside her work with i-graduate in Europe and North America, Nannette runs Expertise in Labour Mobility and is responsible for the CareerProfessor.works app )
Before the panel we were inspired by HE guru Simon Marginson who extolled the values of international education creating positive change in those who benefit from it and creates citizens who are better equipped for a world that 'needs our shared care'. It was good to hear this positive message especially as in a previous interview he felt that, for example, the Australian market would take another 10 years to recover back to pre-COVID levels. He also felt we won't have a vaccine until 2022 (he seems to have epidemiology insights as well!)
After his message of international mobility contributing to the long-term evolution of the world, then we get down to the nitty gritty of employability.
Soft, Professional or Power Skills
Nannette argued that 'soft' skills as a term tends to devalue their importance and that professional skills was a more useful term. She also went to point out that these skills are not fixed, but are evolving and changing and are not the same set for every profession or career. Resilience, adaptability are skills that may be naturally gained via study overseas. Authenticity and empathy are emerging professional skills and the live chat had some debate about whether they could be taught.
I've been exploring other webinars on this topic – The Chronicle hosted an excellent discussion on "What employers want". The Chancellor of Dallas College, Joe May, stated like Nannette that he didn't like the term 'soft', but rather 'power skills' since they are essentially not just for a single job, but enable progression through a successful career. Indeed, one speaker challenged that they weren't skills at all, but rather capacities. I guess we need to reach some agreement on the language!
Get the data right
David from Coventry cautioned against choosing a university based on employability figures, but rather the focus should be on specific programmes that can lead to specific jobs. Wider discussions about employability and unemployability make us realise that graduates may have a job, but it is not close to a degree level job. So, broad measures of promoting employability such as "99% of our graduates get a job within 6 months" are meaningless without some context on the type of job they get.
Get the language right
The panel also noted that students often have the experiences in curricular and extra-curricular activities, but don't necessarily translate them into the appropriate language to reflect the acquisition for skills such as teamwork, flexibility, resilience etc.
i-graduate's own work in this space
Our own work in this space looks at student's satisfaction with support services, work experience and also their expectations of support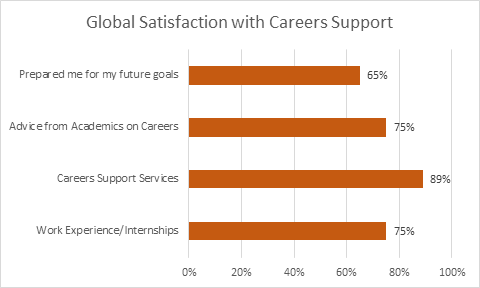 The move to virtual internships
In 2019/20 – the overall global satisfaction with work experience was 75%. With the necessity of virtual internships it will be instructive to see if that satisfaction level remains the same. Of course, virtual internships for better or worse may reflect better the future of work and for international students have the added advantage of allowing for global opportunities that could have not been envisage with traditional internships. For the employer, it will allow them to evaluate the intern's digital literacy and also will allow them to take advantage of the time differences to complete tasks.
Preparing for your future goals
Unsurprisingly 96% of students choose their institution because they believe it the qualification will have an impact on my future career. However, when we asked final year students "How well the institution has prepared you for your future goals?', only 65% said well or very well. There is a clear gap for institutions to close here. One solution to closing the gap between education and the world of work may be found in the digital career app that Nannette has developed in her Expertise in Labour Mobility role, called CareerProfessor.works. This app trains the professional skills discussed whilst providing global career advice on over 40 countries.
Careers Support Service
The Careers Support Service are rated high globally at 89% satisfaction, but less for advice from academic staff (75%). Some academic staff don't necessarily see it as part of their job description to offer career guidance and it is noticeable that this result is very dependent on the nature of the faculty and also newer institutions with more of a vocational focus unsurprisingly tend to score better than the more traditional institutions especially when the faculty are drawn from industry.
It is clear that 'employability' will remain top of the agenda for all HE institutions and that institutions need to go beyond advertising employability statistics, but instead focus on ensuring high levels of satisfaction with their processes ensuring not just students find jobs, but have worthwhile and successful careers contributing to society.
For more information on global benchmarks for the international student experience, including the decision-making, expectations, perceptions and intentions of your international students, join your region's latest webinar:
"Improving student experience, satisfaction & recommendation
in Higher Education Institutions"
TOPICS:
SHARE THIS ARTICLE:
Discover Tribal for Higher Education
Find out more about our products and services for Higher Education...
CLICK HERE