To celebrate National Apprenticeship Week 2023 (#NAW2023) we've reached out to former apprentices who currently work for Tribal to understand more about their work-based learning journey.
First, we introduce you to Nathanial Harvatt, who believe it or not, started his apprenticeship back in 1998, completing the entire programme using a paper portfolio.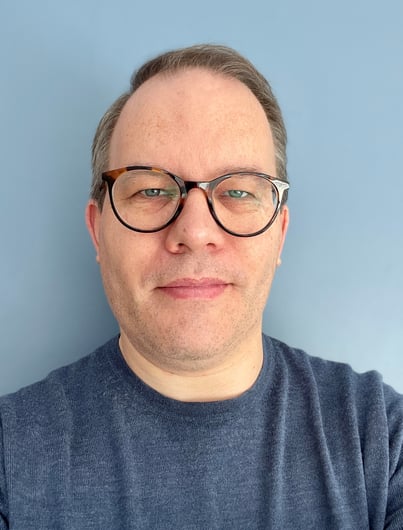 "I did a Business Administration and Management NVQ Level 3. At the time, they called them Modern Apprenticeships. I started straight from school in the summer of 1998.
My placement was with a national car dealership in Hull, working in the finance department. I enjoyed my first working life experience; it gave me a good understanding of getting to know and working with people and what goes on behind the scenes to help a business function."  
Apprenticeships have been around for years, however, the ideals around them have changed over the years. Some prefer to study a university degree and take the 'traditional' education route, whilst those favouring the workplace learning approach is slowly growing. The sector is also witnessing a shift in many middle-class young people opting for degree apprenticeships over traditional degrees as a way of avoiding debts and gaining on-the-job experience whilst they learn. What once was a route for those who performed worse in school has now transformed into a desirable option regardless of FE outcome.
"I was done with studying, textbooks, and the classroom. I wanted to get out into the world of work and have a few experiences. If I were to decide now, I would do the same thing.
I think apprenticeships are a fantastic way to get practical, hands-on experience. I learnt so much about how business works, how various departments work together and what I needed to contribute as a team member."
In a digital-first world, it's hard to imagine that programmes were originally delivered entirely paper-based, with large ring binders full of evidence and records of visits. Now, with options like Maytas, apprenticeships can be completed using an e-portfolio, with even assessor visits hosted via online meeting tools.
"For me, at the time, everything was paper-based. I remember my assessor visiting me every few weeks with a massive ring binder with all my units printed out. Usually, this involved photocopying some work I had done and then adding it to the ring binder. I imagine the assessors will be happy that they don't have a boot full of ring binders in their cars for the apprentices they are working with now.
When I look at what is possible with technology now, I think digitising apprenticeships is a great move. I used to forget to keep back pieces of work or to photocopy them for my next assessor visit. Being able to do that with a mobile phone today, which only takes a few seconds, is a vast improvement. It makes it easier for everyone involved, keeps it in a secure location and can easily be checked and referenced again."
Understandably, making a decision that will influence your future is tough for anyone and choosing an apprenticeship with the variety available can be both daunting and exciting. We asked Nathaniel what his advice to those looking to step into the world of work-based learning would be:
"Don't let anyone tell you that doing an apprenticeship isn't as good as the other routes available to you in education. You will learn things that cannot be taught in a classroom or understood from a textbook. It gives you a real-world experience of work. That experience has served me well and led me to where my career has taken me today."
Tribal are committed to providing solutions that support the apprenticeship journey and drive positive outcomes, in addition to supporting our own staff to complete apprenticeships. We think it's essential to celebrate #NAW2023 and how far the work-based learning sector has come, and how we can continue to support its growth.
Find out more:
TOPICS:
SHARE THIS ARTICLE:
Discover Tribal for Further Education
Find out more about our products and services for Further Education...
CLICK HERE