In our previous blog on international student recruitment, we shared some pretty shocking statistics from a mystery-shopping piece of research from UNIQUEST that revealed the volume of student enquiries to UK universities that go unanswered, and the manner in which others are followed up. It's perhaps unsurprising when we consider that in 2015, just 3% of institutions utilised a CRM to support the full student lifecycle from initial enquiry, and many universities are yet to make the most of their solutions. The key findings that Uniquest uncovered demonstrate the gaps in student expectation versus experience and shows that international students are typically enjoying a better experience than domestic students.
Even so, insight from our latest student barometer which surveyed 66,000 students found there to be big differences in response times to applications, with some undergraduates waiting 80 days from application to offer, where others only waited 30 days. The data also showed that the larger Russell Group and Go8 universities were considerably slower than the overall average response time of 44 days, averaging 65 days between offer and application for domestic students and 56 days for international students.
Despite these statistics, the student barometer found that globally 90% all students were either satisfied or very satisfied with the response time for their application. When looking at domestic and international students it appears that on average international students are slightly less satisfied with the response time at 87%.
Failing to respond to enquiries – whether from domestic or international students - and process applications and make offers efficiently could ultimately mean your marketing efforts and resources go to waste because a competitor was able to follow-up more quickly. The university's recruitment campaign is typically the first interaction an international student will make with your university and helps form the initial opinion of the institution in the international student's mind. Whilst a student may be happy to wait for a response to their application they may not even consider applying if their initial engagement or enquiry with an institution is not a positive one.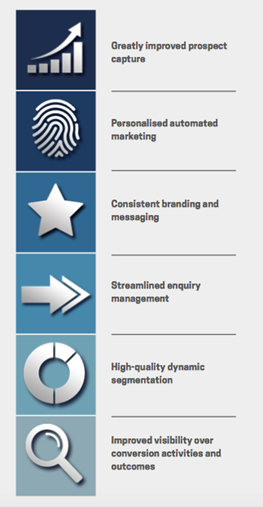 Recruitment campaigns that showcase the type of instant, personalised, unified and targeted communication a student can expect from the university will help to differentiate the experience from that of other institutions. So when competing on a global scale within international markets, it's even more important to find ways to speed up your response times and optimise recruitment campaigns for maximum engagement.
Key to creating exceptional recruitment experiences that turn prospects into students is the ability to nurture demand, personalise interactions, and to start to build a relationship for the future – from initial engagement through to admission. This is near impossible to achieve cost-effectively without a CRM solution providing real-time visibility over conversions and outcomes through rich analytics and reporting in line with SLA performance
Automating manual tasks and focusing on what matters, while building and maintaining a 360° holistic view of prospective students from the first contact through to admission is key to helping you thrive in times of change and ensuring your institution is responding to all enquiries and building a positive relationship with prospective students is key.
Tribal's CRM solutions – which extend Microsoft Dynamics 365 with a suite of tools specifically tailored to the needs of the education sector – are designed to help HEIs nurture rewarding relationships with seamless experiences that increase lead generation, strengthen marketing capabilities, and expand horizons beyond current recruitment campaigns, facilitating:
Unified and cross-platform initial engagement
Create, execute and monitor effective recruitment campaigns across platforms including email, text, social media and web. Utilise detailed segmentation and targeting capabilities ensure the right messages are always being delivered to the right prospects in the right places.
Nurturing personalised prospect experience
Generate, capture, process, and nurture student enquiries across platforms, online, and in-person. Connect with a huge infrastructure of marketing tools to deliver timely, automated personalised marketing with consistent brand and messaging.
Measured, monitored and effectively managed outreach
Manage relationships with feeder organisations and agents simply and easily from a central location. Quickly gain insight into the efficacy of events and activities alongside detailed ROI analysis.
Seamless in-person and virtual event management
Attend, run, assess and capitalise on all types of events, from virtual open days and in-person site visits to exhibitions and conferences. Manage all event stakeholders, from delegates to sponsors and exhibitors, in one place while providing viability assessments for each event through detailed cost, income and attendee tracking.
Universities that have transformed their international student recruitment programs with Tribal's CRM are not only faster and more successful than average when it comes to processing applications and making offers, typically they also benefit from:
A positive impact on international recruitment targets.
Reduction in application drop-off rate.
Positive impact on Online Education revenue.
Cost savings through automated call campaign capability.
Staff savings as a result of automation.
Enhanced data insights and customer experience.
Better decision making through improved Business Intelligence.
Make sure your marketing and recruitment processes are optimised to respond quickly and effectively to student enquiries with our free guide full of top tips to make the most of your CRM solution.