In 2022, Australian universities are preparing for a shift in student populations as borders finally reopen and international students begin to return after nearly two years. But the road to recovery is looking like a bumpy one, with a mix of challenges and opportunities.

Changes to Australian student visa work hours mean that these students are likely to face increasing pressure as they try to find a balance between work and study. Previously, student visa holders were required to limit their workload to just 40 hours per fortnight. But in January 2022, the Australian government declared an immediate, temporary lift on working hour caps across all industries.
As the sector moves into a recovery period, education providers will need to understand what's at play for working international students and the kind of support they may need to remain enrolled.

So, let's take a closer look at the situation, the impacts it could have on students and universities, and some ways that student support services can help international students find balance.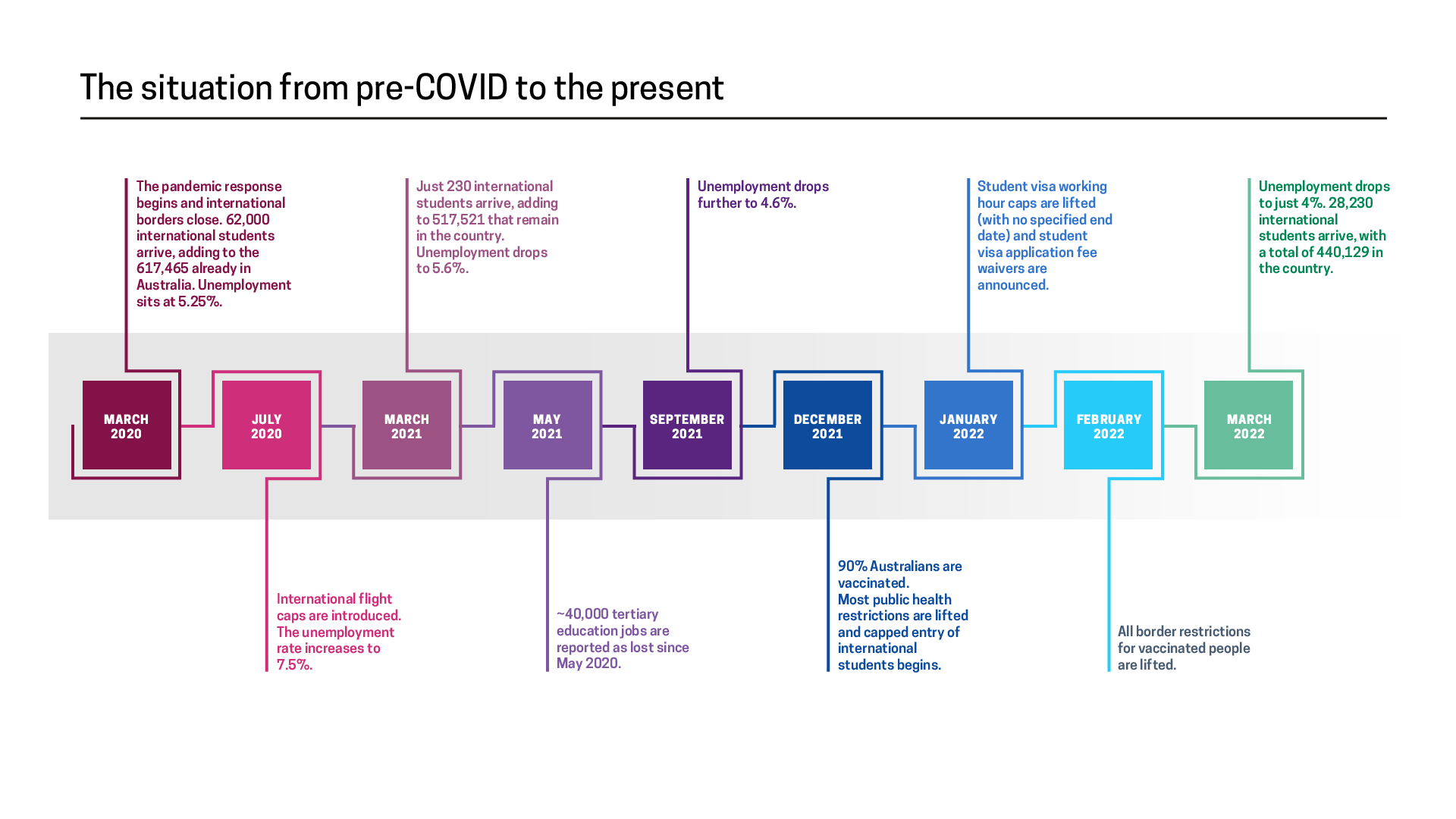 Two major themes are emerging from the timeline of events.

Firstly, international students are starting to return to Australia, but numbers are still a long way off the previous levels needed to rebuild the AUS$40 billion sector.

And secondly, Australia faces an increasing skills shortage and not enough people to fill roles — not just now, but well into the future, with Australia needing another 280,000 skilled workers by 2025.

The government hopes that lifting work restrictions on Australian student visas will immediately help to address shortages. And also make Australia a more attractive option for international students that want to work during their studies, supporting the tertiary sector's rapid recovery.

The policy change does seem to tick a lot of boxes. But let's take a closer look at the positives and negatives from the student perspective.
Impacts on international students
"I know that our students at Torrens University who are currently waiting offshore are very much looking forward to being able to realise their dreams to live, work, and most importantly, study in Australia."
– Mark Falvo, Senior Vice President (International) at Torrens University
So far, students (and industry professionals) have expressed mixed feelings over the temporary removal of restrictions. Understandably, some are excited to have more opportunities to work. Potential benefits for students include:
The option of full-time work (if they want it)

Making study in Australia more feasible for some student

Being more employable in a broader range of roles

The chance to be more financially independent

Reduced likelihood of lower wages and workplace exploitation (due to the caps)
These sentiments are echoed elsewhere. A 2021 survey conducted by New Horizons published in our International Student Barometer whitepaper revealed that international students are strongly motivated by future career opportunities when choosing a country to study in. The ability to work part-time while studying was another key consideration, with 16% of those surveyed listing Australia as their first choice, behind Canada, the USA, and the UK.

That said, many students and student representatives have concerns about potential negative impacts.

"Who's going to be responsible to take care of them, if international students fall sick?"
– Oscar Zi Shao Ong, CEO of Council of International Students Australia

The biggest concern is whether students can find balance while fitting both study commitments and long work hours into schedules. It's important to note that students must still meet Australian student visa requirements of maintaining course enrolment, satisfactory attendance, and satisfactory progress. The expectation of longer work hours may increase pressure on students, adding to pandemic-related stress, with the biggest impact on students who are already financially disadvantaged.

Secondary concerns are that it may lead to confusion around working visa vs student visas and that longer work hours put students at increased risk of exposure to COVID-19.
Impacts on higher education
Every student matters, but with fewer international students in Australia, student retention and international reputation is critical. Additional workloads and pressure on students mean increased risk of student burnout (and consequently, dropouts) if students don't find an appropriate balance between work and study.

Adding to this challenge is that most universities now have considerably fewer staff, with around one in five university jobs lost due to the pandemic.

To retain and attract international students in the coming years and pave the way for a strong recovery, higher education providers must offer world-class student services, without relying on extra resources.
6 ways providers can help international students find balance
1. Understand and prioritise students based on need
In order to respond to the changing needs of international students in Australia, it's important to understand the situation. Go deeper than your assumptions (including the assumptions listed here) and get real data, direct from your student population. Potential data sources include:
Student surveys – Ask students about their situation, concerns, and how they'd like you to support them
Student information systems – Analyse grades, assessment scores, attendance records, and behavioural data
You can use this evidence to recommend overall support changes needed, ensuring they're directly linked to student needs. But you may also be able to identify individual students who are more likely to struggle or drop out. Use these insights to target high-risk students with specific supports and re-engagement activities to improve retention rates and help them succeed.
2. Promote mental health awareness and strategies
"Given the challenges international students have faced during the pandemic, the ability for students to seek employment if they desire is ultimately a good thing."
– Peter Chesworth, Deputy Chief Executive at Universities Australia

In a 2021 survey by Student Minds, the UK's student mental health charity, 74% of respondents said the pandemic had worsened their mental health. Another recent report by the Council of International Students Australia found that 93% of international students stranded overseas experienced significant mental health issues.

Although we're entering a post-pandemic phase, these issues still remain for students. Many students will appreciate the extra flexibility and control from relaxed visa rules, but balancing greater workloads may increase the pressure on students who are already struggling.

Student services and support can play a role in helping students understand and overcome mental health challenges by:
Distributing information on mental health conditions
Promoting services that can help support students with mental health
Facilitating access to specific programs that can help international students
Encouraging students to take early action and ask for help when they feel overwhelmed
3. Create continuity for students
Providing students with a dedicated point of contact and consistent experience can help students feel safe and comfortable, build shared understanding, make faster progress, and access resources sooner. These benefits can make a huge difference to outcomes for international students who are in an unfamiliar environment and may face additional barriers.

It's not always possible for students to deal with one person over the course of their student support journey, but the right tools and processes can help create a sense of continuity along the way.

For example, it's helpful to treat each student enquiry or support request as a 'case'. Record details of any student support interactions, including phone conversations and email messages to create a complete history for each student. With detailed information at your fingertips, students won't need to repeat themselves and teams can collaborate on cases while providing personalised support from beginning to end.
4. Provide practical career support and advice
"There needs to be a better system in place… expectations need to be made clear to students."
– Oscar Zi Shao Ong, CEO of Council of International Students Australia
Career advice is an area that needs improvement across Australian universities. Tribal's 2021 International Student Barometer found that Australian international students had relatively low (87%) satisfaction with their university's Careers Advisory Service.
With the changes to Australian student visa working hours, there's an opportunity for education providers to go further with practical career advice and support. For example:
Educating international students on their workplace rights and protections, like Award Minimum wages and how to report unfair treatment

Linking students with pre-vetted roles that are a good fit for their schedule and abilities

Helping students get work-ready for post-graduate roles that match their qualifications

Providing students with updates on visa requirements and other changes as they occur
5. Offer omni-channel support
Best practice student support meets your students where they're at. This means being available and responsive across an increasingly broad range of platforms, including:
Live chat (with humans or bots)

Knowledgebase or articles

Forums

Email enquiries

Social media

Support requests and ticketing systems

Appointment booking

Video calls

Phone calls

In-person meetings
Omni-channel support can help to ensure your students get the information and support they need in a format that's most accessible and comfortable to them. Plus, 24/7 and self-service options will be critical for students who choose to work longer hours.

Implement a student support and wellbeing tool
To more efficiently support international student wellbeing and communication, you may need to upgrade your systems to a purpose-built student support tool.
Tribal Student Support and Wellbeing is a full enquiry and case management suite, built for education and delivered in the cloud. Features and options include:
Self-help student portal

Omni-channel capabilities (live chat, video, email, and student portal)

Individual case management

Automated workflows

Information and interactions securely managed in the cloud

Native integration with Tribal's ebs and SITS:Vision systems

Integration with third-party systems with customisation to suit most requirements

Available for Tribal Edge Suite users for Cloud and AI-enabled student experiences

Learn more about what's included or contact us to find out how you can upgrade your existing Tribal solution — or deliver world-class student support alongside your current systems.


Looking for more ideas or insights on current issues? Head to Tribal's Student Support and Wellbeing Resource Hub for free resources to help you deliver world-class student support


TOPICS:
SHARE THIS ARTICLE: