In the year that saw the world plunged into lockdown, many of us turned to our phones for connection, interaction, entertainment and even our food shopping. Over the past year, social media has been used more than ever and new platforms and features such as Instagram Reels and TikTok have become large parts of our online social activity. We'll be looking at the social media statistics of 2020 and looking ahead to the trends we expect to see in 2021.
2020 Social media trends
More than 4 billion people worldwide

are

now

using

social media

and are

spending on av

era

g

e

2.5 hours per day

scrolling

With

boredom busting

dance routines and

challenges

,

TikTok

became one of the fastest growing platforms

and in 2020 reached 800 million active users

and

is the most downloaded app on the

A

pple app

store

Instagram created their answer to

TikTok

in the form of Instagram

Reels

and IGTV for longer

content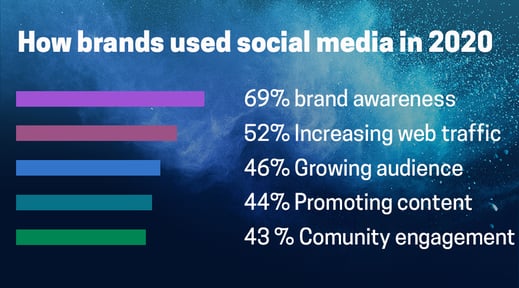 Images and video

s were

the

most

popular forms of content with 68% of people saying they prefer

posts with images

and 50% saying they

engage most with

video




The number of r

egular messaging app

users

I.e.

WhatsApp

has increased during lockdown growing from

2.70 billion to 2.77

billion

Zoom

also

became a part of our daily lives in 2020

and as a result the video c

ommunication

platform jumped into the top 4 most downloaded

apps

behind

TikTok

,

Facebook

and WhatsApp




Conscious social in 2021
Many of us have used our time in lockdown to reflect on the important things in life such as our core values, important causes, and real connections. This time has shone a light on the 'conscious social' movement which is set to influence a company's success and relevancy in 2021. Companies, brands and organisations will need to be seen as cause-orientated, standing up for key issues such as social justice, mental health and climate change.
Social media is the most powerful tool you as an organisation can use to show you're listening and to talk about the moves you have made to become more ethical and socially aware.
One institution that has adopted the conscious social approach is Bristol University who, during 2020, shared their research and thoughts on the following issues:
The d

airy

industry

adapting to climate change

The increase in domestic abuse cases over Christmas and during lockdown

. The research they funded and signposting for those who may need support

Gender eq

u

a

lity

, how t

he

y became the

first

uni

versity

to admit men and women equally

BAME student support
In 2021 we expect to see many more organisations, institutions and brands using their social media platforms for good and talking more about their chosen causes and charity partnerships.
Tips for improving your social strategy in 2021
Customer content creation – Encouraging your students to share their projects and pictures can fill your channels with meaningful and engaging content.
Social listening tools – Know what your students and stakeholders are talking about by using a social listening tool such as Brand24 or Sprout Social. These tools will enable you to react and interact in the moment.
Online Social Communities – Using platforms and channels such as Facebook and WhatsApp can enable you to create online communities. This allows students to connect and speak to like minded people.
Metrics – Building a robust social media strategy can take a lot of work so it's important you track the impact your posts are having. You can use inbuilt tracking tools such as Twitter analytics or integrate an external tool to track the following:
B

rand awareness: How many people are mentioning

your

insti

t

ution

E

ngagement

: Are people liking and sharing your posts

C

onversion

: Do you see an increase in applications
TOPICS:
SHARE THIS ARTICLE: