What do students in Australia, New Zealand, and other countries in the Asia Pacific region really think about universities? And according to the latest student surveys, what does it take to attract new students in 2022?
On the back of nearly three years of disruption to studies, travel, and everyday life, it's safe to say that student preferences and perceptions look a little different than they used to.
There's some good news: overall student satisfaction in both Asia and New Zealand was 89%, leading the way at 2% above global averages. And some not-so-good news: Australia lagged considerably behind at 79%, with student satisfaction impacted by ongoing COVID-related challenges. But regardless of your region, there's room for improvement.
We looked at the latest findings from Tribal i-graduate's Global Student Experience 2022 report to uncover what students in APAC really think when it comes to choosing and recommending universities (and how education providers can stay relevant).
But before we get into that, why do student perceptions really matter?
Expectation and the realities of the student experience
"I think it's incredibly important to understand where students are at and how they rate you, especially when it comes to outlier years like the pandemic years." - Barbara Lung, Director Global Curtin.
Even universities that consistently perform well when it comes to student satisfaction can benefit from a fresh look at what students want. Understanding what students think can give you insights into:
Changing student requirements
How to increase student satisfaction
How to increase future recommendations
Messages for targeting prospective students
Getting this right is especially important in 2022, with growing competition for attracting and retaining international students. Plus additional factors to consider, like lingering COVID-related disruptions to on-campus learning and student travel, and ongoing issues around the world impacting student numbers.


5 key findings from The Global Student Experience 2022
1. Career impact is critical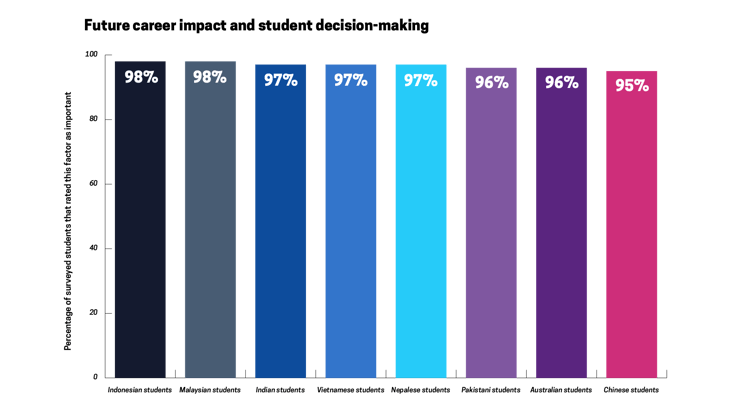 Future career impact remains the #1 factor driving students' decision making in the Asia Pacific region. In other words, career potential is a key consideration when students are comparing universities and qualifications.
Student marketing and recruitment campaigns should focus on demonstrating clear links to employability. Highlight evidence like:
Earning potential and graduate employment rates
Course update frequency to reflect workplace needs (especially in fast-moving disciplines like technology)
How course modules are linked to on-the-job requirements
Opportunities for work experience
Class and teacher quality
Career advise and support resources (and how to access them)
Meanwhile, there's room for improvement when it comes to aligning career impact expectations and reality. Survey results showed that in Australia, just 61% of international students felt that their studies prepared them for career goals, compared to the global average of 64%
2. Online learning experience matter more than ever
The pandemic led to a rapid acceleration of virtual learning in universities, with many courses being taught 100% remote for the first time. And while most in-person learning has returned, it's important to understand how online learning impacted students and what they expect, moving forward.
In Australia, 94% of students experienced online learning due to COVID at some point, and 76% of students surveyed were satisfied with online learning, compared to 78% globally.

Interestingly, student satisfaction with online learning in Asia sits well above global benchmarks and has even increased since 2020.
Student satisfaction with online learning in Asia 2020-21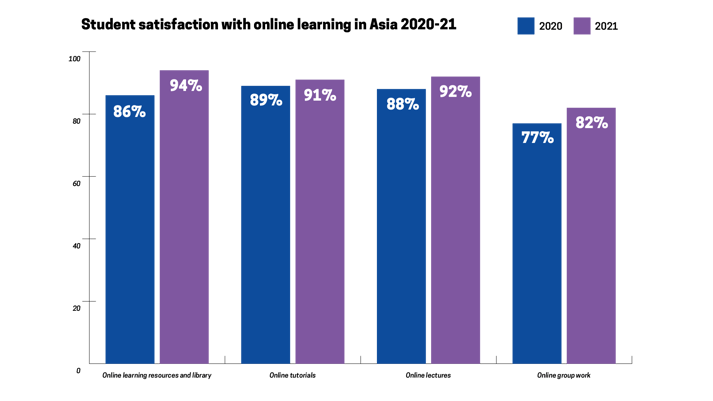 Despite these positives, there were also downsides to online learning. With many campuses closed in 2020, 27% of students in Asia (understandably) disagreed or strongly disagreed that they were getting value for money from their studies. This number dropped to 18% the following year as campuses reopened.
It's clear that for many courses, virtual (or at least hybrid) learning is here to stay — and many university students are in favour of this. Because although 64% of surveyed students in Asia still preferred face-to-face teaching, a substantial 36% preferred online options in 2021. This means that universities should take the time to get these experiences right, ensuring that more students are satisfied and feel they're getting good value.
Note: Tribal i-graduate offers student experience surveys like our Online Education Barometer (OEB) for institutions that want to independently assess and compare the perspectives of their online students.
3. Getting students on-campus may be challenging
With many students now adjusted to online learning, getting some students back to full-time campus study may be challenging. Not just because of health concerns, but because they had settled into a 'new norm' that allowed them to balance work, parenting, and other commitments with their studies.
But getting students to get back on campus is critical for degrees (and students) that require hands-on learning, as well as building an engaged community. Universities can encourage more students to return to campus by:
Increasing opportunities to socialise – For many students,

engagement starts with community

. This means that socialising with friends and participating in clubs, organisations, and events make up an important part of the university experience (that many missed out on due to the pandemic).
Improving campus facilities – Upgrade student facilities, like internet access, library spaces, and study environments to help students feel more at home.
Integrating online and offline worlds – Help students re-engage with the community by using an app (like

Tribal Engage

) that connects staff and students and allows them to collaborate, share activities, and support one another.
By better connecting online/offline study modes and supporting a strong university experience on-campus, you'll be ideally positioned to attract students that want the best of both worlds.
4. Wellbeing and student support is key to overall satisfaction
It doesn't come as a surprise that satisfaction with support may be linked to overall higher satisfaction, especially during the last couple of years. Students in Asia and New Zealand reported relatively high levels of satisfaction with support or wellbeing, as well as high overall student satisfaction. Meanwhile, Australia scored comparatively lower on both measures.
So, what can universities in APAC do to support student wellbeing?
Student health and wellbeing has suffered due to the pandemic. As a result, there's expectations for student services teams to keep up with growing demand, with a range of service options, including:
Online support
Face-to-face services
Career advice
Mental health programs
Read more about addressing the exponential rise in student mental health cases in APAC higher education sector.
To efficiently support student wellbeing (and in turn, overall student satisfaction), universities need to provide their student services teams with the right tools. Look for software solutions that:
Seamlessly integrate support with your student management system to easily identify which students might need more attention
Offer students a variety of ways to connect with support services, including self-help, live chat, video, and email
Connect students with appropriate counselling services and resources
Include or integrate with a

CRM for higher education

so you have a centralised record of student interactions with support services
Tribal Student Support and Wellbeing ticks all of these boxes (and more) and is available inside the Tribal Edge platform.
5. International students need additional support
Finally, it's worth noting that international students have been disproportionately impacted by the pandemic.
Across the six Australian universities that surveyed both international and domestic students, international students were less satisfied overall at 79%, compared to 85% for domestic students. They also scored lower on a variety of measures, including value for money, learning, living, support, and happiness.
This doesn't come as a surprise. International students faced significant challenges and a student experience they did not sign up for, thanks to international border closures, campus shutdowns, and a lack of financial support. Read more about international student recruitment in Australia: post-pandemic challenges & opportunities.
To compensate for these challenges and increase satisfaction levels within your international student cohort, consider ways you can specifically reach this group. Resources, programs, career advice, and re-engagement activities can help to bridge the gap for international students and ensure they get the best possible experience from their studies.
Note: Tribal i-graduate offers student experience surveys like our International Student Barometer (ISB) for institutions that want to independently assess and compare the perspectives of their international students.


Upgrade your student experience to stay relevant
"Mahidol have found the Student Barometer an invaluable tool in evaluating the student experience and benchmarking our performance across both Asian and Global institutions which contributes to our goal of continuous improvement in all aspects of the student experience." – Prof. Dr. Patcharee Lertrit (M.D), Dean of the Faculty of Graduate Studies, Mahidol University Thailand.
The Global Student Experience 2022 report makes it clear that in order to stay relevant, universities in Australia, New Zealand, and the Asia Pacific need to approach their student experience with fresh eyes. It's time to re-examine the factors driving student choices, from study formats and technology to wellbeing support and activities.
Contact Tribal to discuss how we can help you upgrade your student experience with solutions like our student management system, Tribal i-graduate student surveys, the Tribal Engage network, and Tribal Student Support & Wellbeing.