Challenge
Backstage Academy, a specialist education provider for the live events industry, had an ambition to become a recognized independent Higher Education provider. With the industry knowledge, staff and contacts they had everything in place –but required a more efficient and comprehensive data management system. To ensure robust and secure student records, they decided to invest in a Student Information System that could transform their data handling and business insights.
Solution
Backstage Academy were looking for a well-established, integrated database system, and they quickly discovered the right fit. They selected Tribal's ebs system, choosing a three year contract including the Tribal Engage app, a complete mobile solution for their campus community. Now with a leading Student Information System and a bespoke mobile app, their student data is streamlined, easy to manage and future-proofed. Their student communications and support have improved dramatically, as they are now able to send messages, timetable updates and more through a safeguarded app direct to student's phones or tablets.
Backstage Academy are a Higher Education (HE) provider who specialize in undergraduate and postgraduate degrees, short courses and bespoke training for the live events and creative industries. Their campus is situated in the world-renowned Production Park in West Yorkshire, and features state of the art studio spaces and technology. They have a small student cohort of around 200 students, and pride themselves on a unique and exclusive student experience.
The Academy are currently a franchise partner of the University of Bolton, and in the process of becoming an independent HE provider and moving towards taught degree awarding power (TDAP). In order to award their own degrees, they are required to register to the Office for Students (OFS) as a HE provider in England. They wanted to ensure they had a robust student record system in place, to manage the processes that will be devolved to them as part of becoming independent.
A Reliable, Secure and Efficient Solution to Transform Student Data Management
After comprehensive research into Student Information Systems, Backstage Academy were impressed by Tribal's student management system ebs.
Carrie Carfrae, Registry Manager at Backstage Academy said:
"We looked into Student Information Systems on the market and we spoke to similar sized universities for their recommendations, this all influenced our decision to choose ebs. Our franchise partner the University of Bolton use SITS:Vision (another Tribal system), so we knew they had great things to say about their experiences working with Tribal."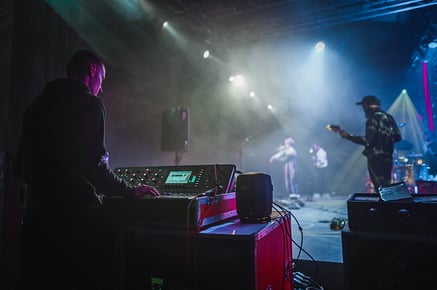 Used by Higher, Further and Work-Based Education providers globally, ebs is a tried and tested solution, with a renowned reputation. ebs encompassed everything Backstage Academy needed to manage curriculum, student records, admissions and funding – all in one place. Tribal is experienced at delivering products remotely, so the project was quick to deliver, due to a rapid and compact out-of-the-box deployment system. Implemented in 2019, the ebs solution is now managed by a small team at Backstage Academy encompassing, admissions, marketing, registers and student support.
Carrie said:
"It has been brilliant working with the system. Managing the implementation of ebs I have noticed a dramatic improvement in the efficiency of our student information processes. Simply put - ebs is amazing!"
The process of managing student data at Backstage Academy is now seamless and intuitive. Academic staff use the system daily for marking and registers, and are able to discover valuable insights into attendance monitoring. This in turn can help with student retention and additional support requirements. Through attendance monitoring in an integrated system, they can now easily report on and access attendance details for individual modules.
Carrie continued:
"Before ebs we didn't have a system to report on our student data, everything was on spreadsheets and saved in different folders. It's fantastic to have a standardized system that our staff can use and access easily, and we can control the levels of access to ebs. Although our students don't directly use the system, I think they have more confidence in us now we have a secure, reliable and professional way to store their data."
Making Communications Easier for Students and Staff
Alongside ebs, Backstage Academy selected the Tribal Engage app, to help improve communications. Like many HE providers, the institution were finding that emails weren't the best way to communicate with students. With emails ignored and students missing key communications, staff were turning to their personal social media accounts to contact students. The Tribal Engage app gives Backstage Academy a safe and secure platform for students and staff to collaborate and communicate.
Backstage Academy worked with the Tribal Engage team and developed their own app with in-house branding – they decided to call it The Backstage Academy App. Backstage Academy implemented the app in March 2020, they have seen a steady intake of users in the months since launching the app, with an increase in students messaging each other. The app enables Backstage Academy to keep in contact with students from initial enquiry, right through to graduation. They have recently launched the app to new applicants, giving them the first taste of their campus community.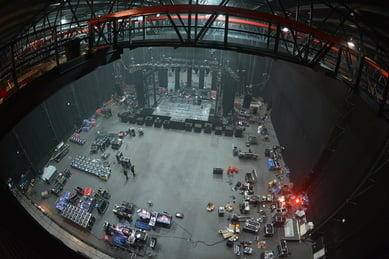 The Backstage Academy App is introduced to students upon selection of their course, and enables them to choose their own modules from the palm of their hand. The team at Backstage Academy have been hosting one-on-one app training sessions with academics, to encourage them to use the app and demonstrate that the app is simple, intuitive and easy to use. Staff no longer need to use their personal WhatsApp or Facebook to message students, The Backstage Academy App is their professional and safe platform to communicate.
Looking to the Future
Backstage Academy aim in the future to utilize the app to its full potential, working with Tribal to increase functionality with their specific requirements in mind. Tribal is always striving to create new and innovative processes to ensure the app supports the best student experience possible.
Tribal systems and staff will be integral to supporting Backstage Academy in the future, when they plan to complete HESA returns and their application to join the OfS register. Their core students records are safely stored and updated in ebs, resulting in hassle free funding returns.
When asked about their experience working with the Tribal team, Carrie Carfrae, Registry Manager at Backstage Academy concluded:
"The Tribal Team are really great to work with, especially our Implementation Consultant – she is absolutely fantastic. She is incredibly responsive when it comes to communications and is reassuring. I was impressed with the customer service and costings of Tribal systems compared to their competitors, the sales team are also extremely helpful and knowledgeable."
TOPICS:
SHARE THIS ARTICLE:
Discover Tribal for Further Education
Find out more about our products and services for Further Education...
CLICK HERE