Keep Connected Tribal Awards 2020
Despite 2020's best efforts, some great things have come out of this year, including better work-life balances, appreciation for our NHS, community spirit and of course the vast amount of ways people can now keep in touch. In the last nine months, the world has seen huge jumps in digital adoption and technologies that may have been a few years away have fast-tracked their way into our lives, whether we are ready for them or not.
One demographic that has probably felt less daunted by this significant digital shift are the digital natives, Gen Z. So how are universities, colleges and employers upping their communications game to engage and connect with their students and learners?
We turned to our customers and asked them to share their communication projects and successes from this year. We are pleased to announce that Hammersmith & Fulham Council have won, with their 'no learner left behind' approach to technology.
Read their winner nomination and see the full list of nominations below
And the winner is...
Eamon Scanlon, Head of adult learning & skills service,
Hammersmith & Fulham Council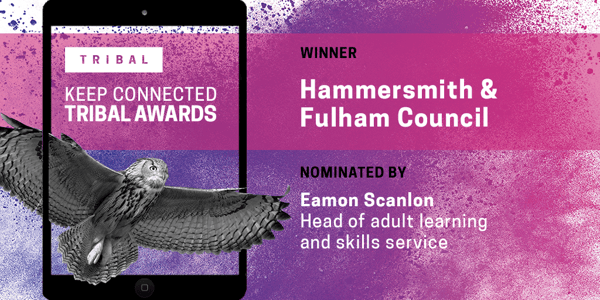 Hammersmith & Fulham Council have ensured no one is left behind digitally by providing devices to students who did not initially have access, literally putting communication into the hands of their learners.
Since Lockdown in March 2020 our ALSS service has continued to offer almost 60% of our classes On-line. We have also enrolled students, interviewed and assessed them on-line through our Tribal MIS system and provided CIAG and pastoral support for them throughout the crisis. In addition, we have trained all of our staff in the use of digital technology and ensured that our students have also been inducted safely and securely to their remote classes. We have supplied laptops and tablets to those students whom we've identified as not having access to digital technology to ensure they do not miss out on their learning. We send out regular communication to staff and students and are offering specific classes in well-being to support staff and learners who are feeling socially isolated. For our more marginalised learners we offer 1-2-1 support and ensuring that they receive packages of learning, if they are unable to access classes due to low digital skills. We are also providing face to face classes for some of those low level students who are unable to access classes on-line. We are also developing a whole new suite of classes for 2021 as part of our digital inclusion strategy across the borough of Hammersmith and Fulham.
Runner up
Tori Kirwan-Taylor, Head of Marketing
South Devon College
There were so many outstanding nominations to choose from, so we have chosen South Devon College as the Keep Connected runner up. We were especially impressed with their commitment to providing a fully virtual summer course to prepare students for the new term and meet their tutors. They also launched their Head Start App, which helped students to communicate with friends and collaborate with classmates.
Traditionally, taster days have an important role to play in easing the transition from school to college; providing reassurance to young people by answering questions and keeping them focused on their goals and ambitions.
With this year restricting the College's ability to open its doors to this new generation of students, Head Start enabled the team to maintain its usual level of support to a new cohort of school leavers.
Head Start is an online programme which took place throughout the summer, with meaningful course-related activities and suggested preparations, the opportunity to get to know your tutor, and receive pre-enrolment information.
A series of 29 'Meet the tutor' videos were produced and shared via SDConnect over the summer weeks

Once starting their courses in September, students were then able to communicate with friends and collaborate with classmates through the app. By the end of September, with frequent posts and promotion of pages within the app and increased use from curriculum staff, student numbers increased to 3,800.
Honourable mentions
Gurjit Sidhu, Head of Marketing
Remit Group
Remit Group outlined how they have kept connected with learners in various sectors from automotive to hospitality by moving their learning online. This project was completed at pace across many different industries, allowing learners to continue their studies with some confirming that the virtual programmes had improved their technology and communication skills.
Ashleigh Dodgson, Learning and Development Practitioner
BMI Healthcare
BMI Healthcare also began delivering training and support virtually this year. Still, as well as focusing on virtual learning, they made a conscious effort to virtually reach out to students and staff via a wellbeing Hub.
Toi Ohomai Institute of Technology
Turning such a hands-on course as agriculture into virtual learning is no mean feat. But the creativity and ingenuity of Rachel Nash (Agriculture Tutor) not only made this possible but also engaged members of the Agriculture community to share their knowledge and expertise.
Join us in congratulating Hammersmith & Fulham Council, South Devon College, our honourable mentions and all of our customers who shared their inspiring stories with us.
Nominations
University of Otago

" As we entered Covid lockdown here in New Zealand during March/April, the University established a special fund called Putea Tautoko, to which staff were invited to donate, and for which students experiencing financial hardship as a consequence of Covid-related circumstances could apply. The fund application process took the form of a new task in our eVision student portal, which was put together by a small team all working remotely from their respective homes, but still took less than three weeks from initial development to go-live."

Brendan Reid, Senior Developer

Heriot Watt University

"2020 is the year the Student Information Desk showed its true value.
At the start of the academic year, as we gradually returned to work, our student service centres became one of the main "on campus" services available to students. To ensure we managed student flow, and protected staff and students, we introduced a 100% booking system for the service centre. The response from students has been great - they can see a time convenient to them and book it, and turn up and be seen. Previously with the walk-in service, there could be delays. From a staff point of view, it has maintained safe working but has also supported improved working and reduced processing time. As an example students needing to collect their UKVI documents and ID - we have been able to have everything ready for the student on arrival, by having a member of staff checking bookings and preparing everything for that appointment - reducing processing time by 50%. We've already decided to keep the new service in future academic years."

Paul Travill,

Academic Registar

St Mary's Primary School

Sea Lake

"During Remote Learning, our teachers set up storytime every morning with a reader from the community and also high profile people. Every morning when the students logged into their Google Classroom, someone different read a story to the school. We had some local people from our community and also engaged high profile people such as Rhonda Burchmore (entertainer), Jo Hall (Channel 7 newsreader), Josh Jenkins (Geelong footballer), Maddy Browne (netballer) just to name a few."

Qdos Training Limited

"Online teaching started early on in the national restrictions, alongside emergency support plans for learners and apprentices. Lessons and support sessions continue to take place online. Despite the turmoil that COVID-19 has caused, there has been very little disruption to learning. Leaders and managers ensure that adjustments are in place for learners and apprentices to continue with their practical assessments. Hairdressing and beauty learners complete course work on family members when client contact is not possible. When assessors cannot visit apprentices in person, expert witnesses carry out recorded observations."

Clare Parker-Doyle, CEO

Bridgend College

"

Using engage app and ontrack teach has kept information up to date with students. Also in Ontrack hub using the SMS feature has been really good."

Konrad Halabuda, Digital Developer

South Devon College

Tori Kirwan-Taylor,Head of Marketing.

"South Devon College prepared to welcome their new cohort of school leavers in September, but in a different way to normal. Early summer is usually a time for taster days and welcome sessions, where students visit the College's Vantage Point Campus in Paignton to get an exciting sense of what's to come in the next stage of their education. This year, these preparations happened online, during an innovative programme called Head Start, delivered via the College's exclusive app, SDConnect.
Traditionally, taster days have an important role to play in easing the transition from school to college; providing reassurance to young people by answering questions and keeping them focused on their goals and ambitions.
With this year restricting the College's ability to open its doors to this new generation of students, Head Start enabled the team to maintain its usual level of support to a new cohort of school leavers.
Head Start is an online programme which took place throughout the summer, with meaningful course-related activities and suggested preparations, the opportunity to get to know your tutor, and receive pre-enrolment information.
A series of 29 'Meet the tutor' videos were produced and shared via SDConnect over the summer weeks"



Toi Ohomai Institute of Technology

"

Rachel Nash is one of our Agriculture tutors based in Whakatane, New Zealand. Rachel kept busy during self-isolation (Level 4 lockdown) with jobs on her lifestyle block. She also reached out to others in the agriculture sector to show students farming skills in action. Rachel says experiences are the core of the agriculture course, so she was frustrated students couldn't get out on the farm due to lockdown restrictions. Technology helped bridge the gap. While Toi Ohomai provided online learning through resources such as Moodle, Rachel also created a Messenger group on Facebook for her class. She tapped industry contacts and other Toi Ohomai farming tutors, adding them to the group so they could share videos of their work. Rachel contributed her own videos because every interaction or task was an opportunity for students to learn about agriculture. "I live on a lifestyle block, and there is a dairy farm next door so I made videos when I was out doing things. I'm really lucky because of the area where I live - I could just hop over the fence and do practical demonstrations. "When we moved to Alert Level 2 but before the students returned, I was fortunate enough to be able to do some teat sealing at the neighboring farm with the Edgecumbe Vets, so I did a question and answer session with them while we worked, then shared the video with students." Rachel says Toi Ohomai alumni are part of the group, including some students who completed the course late last year and have shared daily videos of farm work. "It's been really neat to see them stepping up to help and sharing their knowledge."

AWC Training

"

From going to regular face to face visits and sessions to reaching out online"

Allan Clare, Managing Director

n-ergy

"Our delivery model (due to prison restrictions) has been paper-based, face to face delivery up until COVID-19. Prisons went in to lockdown almost immediately with the pandemic and education halted. n-ergy worked hard to develop in-cell learning materials, workbooks and arrange telephone calls with learners to enable them to continue with their learning. Working in close partnership with prison establishments and complying with strict COVID-safe delivery models, we have been able to return and deliver some face to face learning. Our support packages continue and we have worked extremely hard to support our learners to achieve their qualifications. Even more rewarding for us is the learners who have since secured employment upon their release."

Sarah O'Mahoney, Performance Manager

SNIPEF Training Services Ltd

Dale Thomson, Training manager

"

The national lockdown in March presented SNIPEF Training Services Ltd (STS) with several challenges to ensure our apprentices remained on track to complete their Domestic Plumbing & Heating (P&H) Modern Apprenticeship (MA) with the closure of colleges. STS subcontract the off-the-job training for the apprentices we manage to our college network (CN) of 18 colleges located around Scotland. Firstly, we had to ensure any new assessments could be accessed by all apprentices from the safety of their own home and we decided to use Microsoft Forms as all apprentices have a Microsoft account. Secondly, we had to ensure with distant learning that all apprentices had access to suitable IT equipment to be able to undertake these assessments and we worked with our subcontractors to facilitate this. Once solutions were in place for these factors we decided to focus on the theoretical assessments of the P&H MA. The task group split into 3 smaller task groups with 2 groups focusing on assessments and the 3rd group moving between the 2 groups to help and ensure quality assurance and consistency for the new questions. Together we created 19 alternative assessments with 3 variations each (57 assessments total) typically with around 20 questions in each assessment (1100+ questions). Normally SQA SOLAR assessments are administered in a controlled/invigilated environment and to ensure integrity of the new assessments these are also being followed up with a professional discussion with the lecturer and apprentice. The joint awarding bodies reviewed and agreed for these new assessments to be issued to the college network and that they would be reviewed again in January 2021. Further CN meetings were held, and guidance and training were provided on how to use these new assessments which was passed on to the apprentices who have since been using these new assessments. These assessments enabled colleges to provide training online and administer assessments which was not possible due to the limitations SQA SOLAR assessments. The work for the theoretical assessments ensured when colleges were able to return at the end of August, they only had to get apprentices up to"





The Education and Skills Partnership Ltd (ESP)

MIS Assistant

"

2020 has seen learners face unprecedented challenges not just in their day to day living but in how they access and undertake learning activities. The Education and Skills Partnership Ltd(ESP) take pride in tailoring and personalising learning opportunities by developing learning activities that are accessible, supportive and relatable to their aspirational goals. In order to stay connected with our learners and support them to reach their full potential we have developed online workbooks that enhance teaching and learning by building our workbooks this way we have been able to support learners much more easily. This also aid's all learners to learn in a way they find best. Ergo, learners are able to access high quality online content developed in the recently purchased a 'green room recording area', online workbooks and gain feedback from tutors much quicker and tutors can find the exact areas that learners find most challenging. Using this alongside recorded videos and 1-1's in Microsoft Teams, BBB (Online Classroom System) and Self-Paced Learning in Moodle helps our learners reach their full potential. Therefore, in some courses we run, learners have access to applications that help them achieve their certification, for example in our CSCS course learners have access to the CITB 2019 application that highlights the required process and evidence. We have made provisions available in areas that lack resources and thus learners have access to laptops provided by The Education and Skills Partnership Ltd during their time in learning."





Airways Training

Kelly de Lambert, head of Air Traffic Services Training

Project Objectives:
• Respond to the changing world of ATC training, by providing a technologically advanced space, reaching our global learners who could no longer travel to New Zealand
• Increase demand for and engagement in AIL's products and services, through the utilisation of the studio's advanced technology, creating high quality and effective digital content to support our virtual academy and to inform, entice and educate our students
• Invest in the future by leveraging immersive technologies to engage, connect, enrich and excite the aviation community to ensure that in a fast changing world, AIL is leading the way in staying connected with our learners.

Problem/Pain Point:
• Virtual training was being held in meeting rooms or at instructors' desks at home. These are not always fit-for-purpose spaces, with unprofessional backgrounds bringing down the professionalism of the overall virtual training experience for students.
• Effective resources such as whiteboards and the ability to demonstrate equipment, were not available from the instructors desk.
• AIL needed to future-proof the delivery of training by embracing immersive technologies in training. We need an easy to use, technologically advanced space in which to communicate with our students.

Solution components

• Repurposed air traffic control simulator
• Cameras
• Audio / microphones
• Lighting
• Interactive displays/monitors
• Network interoperability, 5G adoption.
• Mobile studio – easy to manage and use from anywhere.
• Multi functional design elements

Benefits/Return on Investment:
• AIL's students are engaged in rich learning experiences through delivery of a range of immersive technologies in a dedicated digital environment
• AIL is regularly producing high quality effective digital content that informs and educates, positioning us as global thought leaders in the aviation sector
• Enabling the generation of sales leads through effective, sustained and targeted digital marketing campaigns
• AIL is recognised for setting the pace for the digital transformation of aviation learning.

Cardiff University

"

Support teams were setup asap to offer a comprehensive range of information, guidance and resources that students & staff could access 24/7 via intranet & chat facilities. Priorities were given to wellbeing and ensuring that the pandemic situation have no impact on students' achievements."

Milton Keynes Council

Business Manager - MKC Qualifications Centre

"

In order to support our learners to continue with the qualifications without being able to provide face to face meetings; the assessors used different means like What's app, Zoom, Face Time, Microsoft Teams to contact the learners. Firstly, supported learners to build their confidence in using the technology and overcome their fears. The Centre had a dedicated member of the team to support learners with use of technology. This was a big change for learners and assessors as they were used to only having face to face meetings. The assessors contacted learners via video calls using programs which the learners were somewhat familiar with; without adding any additional financial expense. In addition, we collected the folders from learner's door steps and delivered them back after assessing without coming in contact with them. The assessors made themselves available during unsociable hours. We moved to one to one calls instead of group sessions. The centre continued delivering all the qualifications with only one learner who due to personal reasons took break in learning. In March had 232 live qualifications, not only that we continued with existing learners but also during this difficult times had 49 new registrations and 60 qualifications completed."

Kingston University

"

Kingston University responded swiftly to the issues affecting our students following the Coronavirus pandemic by creating a series of FAQs tailored to the key topics affecting students; accommodation, assessments, fees, visas and money. A harvested email address provided a central point of contact and ensured that all pandemic related queries were logged and processed effectively. Library staff quickly adapted to the challenge and assisted with responding to an increase in enquiries, working closely with their Student Services colleagues to ensure that the increase in enquiries was responded to promptly. This cross-team collaboration established new ways of working that we want to adopt longer term and demonstrated how all our staff wanted to ensure the best student experience in difficult circumstances."

Remit Group

Head of marketing

Remit Group outlined how they have kept connected with learners in various sectors from automotive to hospitality. The examples below are taken from Remit Groups work with employability and their commitment to employability training.





From April to November, the team have been able to move c.800 people closer to their aim of securing work and we have continued to serve the under-pressure retail and hospitality sectors. In addition, we have supported our Jobcentre Plus colleagues in their endeavours to recruit large numbers of Work Coaches which is vital to our communities as unemployment rises.





Despite moving to online delivery at pace, our outstanding performance has been maintained, with qualification achievement rates at over 97%.




Learner feedback has also been incredible and demonstrates how by connecting with learners differently through on-line models there has been continued success:




• 99% of students rate their programme as in improving their knowledge in how to keep themselves healthy and well




• 100% of learners rate the support they receive from their tutor as very good or extremely good




• 97% of learners felt their programme improved their confidence in looking for work in their chosen sector




• 95% of learners felt their programme improved their communication skills




• 81% of learners felt their programme improved their skills in using technology




• 97% of learners stated they were likely or extremely likely to recommend Remit to friends or family

BMI Healthcare

Learning & Development Practitioner

We have taken part in a multitude of different tasks to keep our learners engaged. As a healthcare provider we quickly organised COVID-19 training to ensure our healthcare staff felt prepared and educated to deal with their working changes throughout the pandemic. We have over 50 different hospitals therefore we had to think creatively to ensure a standard message would be portrayed. People development nominated a COVID champion at each site to be the main point of contact for both us and the learners. We managed to keep learners on programme by quickly adapting and delivering training and support through Microsoft teams and e-track. We were also aware that some learners may of never had a need to use teams in the past, therefore a member of our digital team created video tutorials of how to use teams. We also offered 1-1 support. A member of our Student services team created videos and paper tutorials on how to use e-track, ran e-track workshops as well as 1-1 sessions. We organised group meetings where both learners and managers can join to raise any questions or concerns.





Non-course related as a company we wanted to ensure learners and staff had a support system. BMI created a wellbeing hub which included:



• Move – Get active
• Munch – Eat your way to a healthier you


• Money – finical Wellbeing




• Mind – Mastering your mental health




• COVID 19 – Tips and support



We also used the reporting functions in Maytas to look into time spent with learners as well as log in dates. We wanted to ensure that all learners received the same support as well ensuring they felt comfortable using e-track during this time.


TOPICS:
SHARE THIS ARTICLE: