Tribal recently held an evening of wide-ranging discussion and opinion on the state of higher education. This included a contirbutions on how the policy framework and rapid technological change interact with each other; increasing participation levels over time; investment in the student experience; and fax machines!
Based on the many challenges we face as a sector, we asked four colleagues for their thoughts on what higher education will look like in the future.
What do you see as the biggest challenge to higher education over the next 3-5 years?
Jeannette Strachan (JS): "I think one of the huge challenges is financial stability. An area we are looking at is process reviews; so, we are looking at all of our student processes (and other processes as well) to make sure they are as lean as possible because, we have tended, over the years to add extra duplication."
John Vinney (JV): "The biggest challenge is around people and talent and making sure you have the right people in the right roles. Another big challenge is around speed of adjustment for organisations and you really need a great team – so I think talent is the key challenge for the university sector at the moment."
Nick Hillman (NH): "There are a big number of enormous challenges over the next few years – political uncertainty at the moment, maybe that will last, maybe it won't. Demographic change – big explosion in the number of 18-year olds. I would love to see the rejuvenation of part-time and mature students as well, but certainly there will be more students in the system than ever before. Of course, if as a result of all the political shenanigans its harder for employers to recruit skilled labour into the UK, its going to be doubly important that we raise the skills of people in the country – and universities are very well-placed to do that."
Jon Baldwin (JB): "I think it's about securing relevance. I think universities have had a really tough couple of years, some of it very unfair, some of it potentially fair. They need to break away from assuming relevance to demonstrating and proving it. That needs strong leadership from Vice-Chancellors and senior teams, from academics and professional staff, but certainly being part of the communities they serve – demonstrating their relevance to those communities and to the education of the citizenry seems to me to be a key challenge."
Are there any specific technologies that you could see as having a big impact on higher education in the next 5-10 years?
JV: "So I think over the next 5-10 years technology is going to have a huge impact on universities. When I started out in the university sector the term ubiquitous computing was used quite often and I think the future is around ubiquitous technology and it will be embedded everywhere; a lot of people talk about big data and data analytics but it's knowing what you're going to do with the data once you've got it so I think there's a whole systems approach to data and the use of data will be quite transformative in the university sector."
NH: "I think technology that is student-focused is going to help some universities stand out from the crowd. The whole regulatory system; the whole way student demand now operates; the whole focus of student experience is shining the spotlight on students in a way like never before. I think technology that helps learning outcomes of individual students, that's helps student engagement, helps student retention and its these technologies that will prove their value for money in the long term."
JB: "I think from our perspective we are seeing a reorientation of focus, from the needs of university administrators, managers in terms of a student management system - to the needs of students. Therefore, technologies that students find relevant, appealing, dynamic and innovative will be what's cool. We're flirting with a student app and student analytics tools but as we build those, we are very conscious they have to look and feel like a student would engage with an Instagram, a WhatsApp, an Amazon, a Google – very different to the way it was in the past."
JS: "Student engagement dashboards to help students see their performance and see how they can improve their performance and helping us to support them more. Learning analytics – the more we can look at that and see how we support students better going into the future. And I think the other thing is immersive technologies – moving away from the standard lectures and lecture capture so students can experience a different environment."
Where do you see [your] institution in 20 years?
JS: "Well if I look back, I was a student at Hull and graduated in 1981 so that's a long time ago! I see the University of Hull, which has a huge part to play in the locality, as going from strength to strength and it will be an even better place in 20 years' time."
JV: "Bournemouth University in 20 years' time will be even more fantastic than it is at the moment! We have a very clear vision but it's about building on your past successes and being creative and innovative going forward so I think we have a very positive future. The future is bright!"
More generally, what

will

a university look

like in 20 years?
JB: "I think maybe they will be more focussed on the elements of the broad educational mission – research teaching, community, internationalisation. I still think there's a place for different sizes, I don't think big is necessarily better, but I think if the funding pressures turn out to be what the speculation suggests, then we will see some rationalisation."
NH: "I think we have a pretty diverse university sector, but I think it will probably be, hopefully be even more diverse in 20 years' time, and one of the reasons I say that is there will be more students in 20 years' time and not all students should experience higher education in the same way. We currently send roughly half of people under the age of 30 to higher education – I this in 20 years' time that might be closer to 70% and its absurd to think this extra growth will be in traditional forms of provision. It may be more blended learning and learning that's looks and feels like apprenticeships where you're earning and learning at the same time. I think the traditional model will survive as well, the three years residential, live away from home immediately after school, I think that will continue but I think it will be supplemented by other types of learning as well."
If you prefer, you can watch the interviews here
Meet our contributors…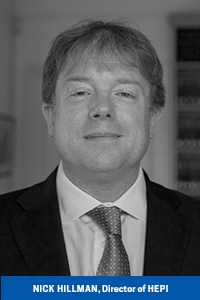 Nick Hillman
Nick has been the Director of HEPI since 2014. He worked for the Rt Hon David Willetts MP (now Lord Willetts), the Minister for Universities and Science, from 2007 until the end of 2013, as Chief of Staff and then Special Adviser in the Department for Business, Innovation and Skills. Previously, he was a history teacher and worked at the Association of British Insurers.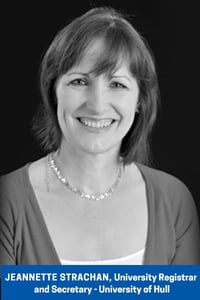 Jeannette Strachan
Jeannette was appointed as the University Registrar and Secretary at the University of Hull in 2013. Jeannette is a Hull alumna and has a BSc in Economics from the University. She also has a Postgraduate Diploma in Public Administration from the University of London and a Masters in Business Administration from City University.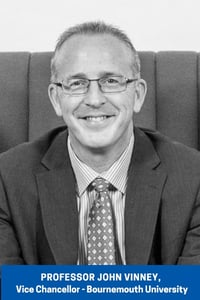 Professor John Vinney
John became Vice-Chancellor of Bournemouth University in August 2010, having joined BU in 2006. John studied at BU, taking an HND in Mechanical Engineering, before going on to study part-time to gain a degree in Mechanical Engineering and a PhD. He also has a PGCE in Teaching and Learning in Higher Education. He has worked in the shipbuilding and aerospace sectors and is a Chartered Mechanical Engineer and Fellow of the Institution of Mechanical Engineers. He has published research on a wide range of subjects but mostly in computational mechanics, with a focus on health and aerospace applications.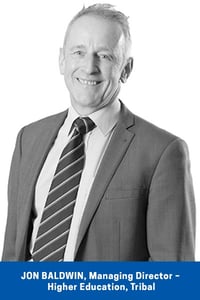 Jon Baldwin
Jon became Managing Director at Tribal Group plc in May 2014 and is a member of the Executive Board. He has responsibility for the global HE business. Jon joined Tribal after an extensive career in Tertiary education which included senior roles with Murdoch University in Perth, Australia (Deputy Vice Chancellor (Professional Services)); University of Warwick (Registrar); UMIST (Secretary and Registrar); and University of Wolverhampton (Registrar).
TOPICS:
SHARE THIS ARTICLE:
Discover Tribal for Higher Education
Find out more about our products and services for Higher Education...
CLICK HERE