As the UK support lead at Tribal Group, delivering ever increasing standards of support to our customers is my passion. I am always seeking new and better ways to make sure that we provide Tribal customers with an experience that gives them confidence, and enables them to extract as much value as possible from Tribal's student management information system, ebs.
This can be challenging at times, and continual service improvement is exactly that; an ongoing process of learning, adapting and refining based on the shape of the FE market, and the needs of our customers.
With this goal in mind, we sent two members of our support team to Cardiff and Vale College for three days to help us to understand how ebs is being used to power the provision of learning in Wales' largest college. Emily Crowdle and Sarah Moore were keen to explore the customer environment, and truly understand the true nature of issues experienced by users of the ebs product. This was so they would be able to provide much more empathic support to the benefit of all users of the service.
We have worked with the college previously, and they were the first customer to engage with us on this initiative, so we were keen to build on our existing relationship, and find out how their operation had changed and what more we could learn from them.
About the College
The prestigious Cardiff and Vale College is one of the largest colleges in Wales, and has over 20,000 learners each year. They use Tribal's ebs, Maytas and WEST tools to manage its provision.
The college has one of the best success rates in the sector, with 89% of students achieving their main qualification. They focus not simply on qualifications but also on developing the skills individuals and employers require for future success. With 86% of students progressing to further study or employment within two months of completing their course, this focus clearly works and an incredible 1,000 students have progressed onto university level study since 2015.
Cardiff and Vale College constantly strive to ensure that they are offering the best quality education and training – with Her Majesty's Inspectorate for Education and Training, Estyn, awarding them a 'double good' for the quality of their teaching and learning.
Believing in the power and scope of the FE sector to support economic development, Cardiff and Vale College remain the only Welsh college to be a member of the Gazelle Colleges Group and one of two Welsh colleges to be a proud member of the 157 group of colleges – all sharing best practice and working collaboratively with stakeholders to champion the sector for the future impact it can bring.
Working with the College
Cerianne Morgan, Cardiff and Vale College's Head of Information Services, was extremely accommodating, and was able to demonstrate how the college uses Tribal ebs to support a number of functions.
Working with the LLWR data, Emily and Sarah were given the responsibility of reviewing and cleaning dataset errors, a key task to ensure that accurate data is submitted and that correct funding is claimed from the Welsh government.
Working closely with the exams team gave both Emily and Sarah an opportunity to see exactly how ebs' exams management module is put to use in a college.
During the visit, Sarah, Emily and myself were invited to the Cardiff and Vale Student Awards 2016 ceremony, which provided us with an excellent opportunity to see student success manifest, and join the college in celebrating the achievements of learners.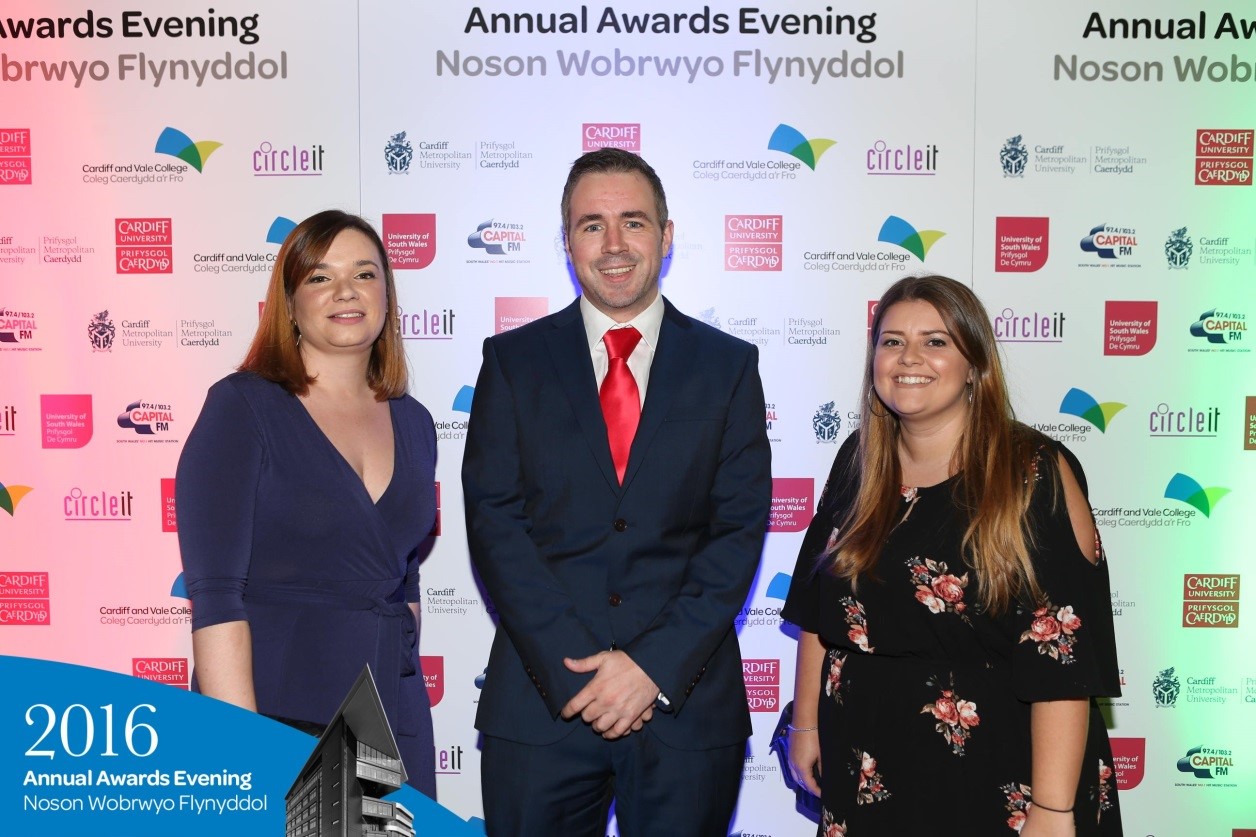 Left to right: Emily Crowdle, Richard Sharp, Sarah Moore
Testimonials
Cerianne Morgan (Cardiff and Vale College):
On October 18 I welcomed Sarah Moore and Emily Crowdle to Cardiff and Vale College to experience how we use the Tribal MIS system ebs, from a college perspective.
Sarah and Emily spent three days working within my department, and liaising with colleagues linked to my department to gain a taster of how we use ebs to support our data management of curriculum, learner journey (admissions & enrolments), timetables, registers & attendance, Welsh Government Funding (LLWR) and examinations.
The format of the three days materialised as: demonstrating to Sarah and Emily how we use the different ebs modules, highlighting any obstacles we face when doing so, looking for suggestions on how to improve on the way we use the different modules, and then assigning work to them to "pitch in" and experience ebs from the college side for themselves. However, the majority of the time was spent on the LLWR module and how we use it within Cardiff and Vale College.
Sarah and Emily also attended an admissions meeting with me whereby we discussed our recent venture into online enrolment and how we were using ebs to support this. Emily and Sarah came up with several suggestions which were then taken back to Tribal to investigate.
Alongside working within my department, Sarah and Emily also met colleagues who work closely with us on developing systems within the college that link to ebs. They met systems developers who have built online application systems, develop our internal systems and are currently developing a system that links the ebs and Maytas data.
Sarah and Emily fitted in well within our team and we enjoyed having them visit us. They are very welcome any time. A nice end to their visit was the student annual awards ceremony which took place on the evening of the October 20. Richard Sharp also joined us for this event whereby the college celebrated the excellence and achievements of students for all departments within Cardiff and Vale College.
Sarah Moore (ebs Support):
As this was my second time taking part in a support visit, I had my previous experience to set certain expectations of how the visit to Cardiff and Vale College would pan out. I can definitely say that this visit exceeded my expectations. All the staff members we met at the college were so welcoming and friendly and by the end of the week we almost felt part of the team. Cerianne even enrolled Emily and myself into the staff lunchtime boot camp at the resident gym!
Not only did we get an in-depth look at modules such as LLWR and Exams but we were invited to the college's annual student awards which was an honour; this was such a special event for the students and the staff. It was so wonderful to see students being recognised for their successes and hearing stories of how they overcame events in their lives to excel in their studies. It was a real celebration of the students of Cardiff and Vale College and this is something the college should be extremely proud of as it was a brilliant event.
For me personally spending the time to look into how the college utilise ebs was so worthwhile, especially the time we spent looking at the LLWR and Exams module. Cerianne went through the whole LLWR process from start to finish. Emily and I even got the chance to help them work through some data 'clean-up' which was really invaluable as normally this isn't something we would be exposed to as Support Consultants. It does open your eyes to the amount of work that goes on to ensure the students are managed efficiently and how vital ebs is to the smooth day to day running of such a large college.
During my time spent with the college it made me realise how important it is that the support team continue to support and aid our customers in the best way we can, which is why I believe these site visits to be so important. Not only is it an opportunity to bond and build greater relationships with our customers but it's a chance to see the product we work with day in and day out be put to the test and to see it working hard for the customers is such a rewarding experience.
Emily Crowdle (ebs Support):
When Richard offered me the opportunity to visit one of our customers again I was more than eager to put my name forward. This was my third visit to a customer campus and while I might have developed a greater knowledge of how our customers use ebs on previous site visits, I was keen to increase this even further to pass back to the ebs support team.
I have been working at Tribal and within the ebs support team now for over 3 years and apart from the core modules such as enrolments and curriculum, I deal primarily with the ILR (English statutory return) calls. Because of this, I was really interested in going to Cardiff and Vale College to see how the site uses the LLWR (Welsh Statutory return) module and also to broaden my knowledge of ebs.
During the week we got to spend a great deal of time at looking at the LLWR process which was incredibly worthwhile. We were able to see the whole process from the start to processing the files through to DFES and also using the error surfer to correct any data issues. Sarah and I also got the opportunity to do 'hands on' work and edit errors, which was a really valuable experience as we were able to use ebs as typical users. We also had the chance to shadow the exams, timetables and IT department which was also useful.
Alike to my previous visits to customer sites meeting the customers face to face has been very worthwhile, we are able to see and experience how the site use ebs but also what other factors impact on their job. This experience has also been extra special because we had the opportunity to go to the college's student awards and see students walk away with qualifications which have been supported by the use of our software.
Outcomes and next steps
The experience seems to have been well-received and beneficial to all parties, and it was great to see student success being celebrated by the college. Sarah and Emily have fed back their experiences to the rest of the support team, so that the valuable insights they gained can benefit the whole team.
As we now move into 2017, it's important that we understand the challenges that the year will bring, for us and our customers, and to ensure that the support team has the skills that it needs to meet those challenges. We are currently in discussions with other customers to try to arrange more focussed sessions that will allow our specialists to gain an even deeper understanding of how ebs is used 'in the field'.
These exercises also help to build our rapport with customers, and there is certainly a much closer relationship now between Tribal and Cardiff and Vale College which will allow us to help them to enable even more student success in the future.