CHALLENGE
Over-complicated, inefficient and time-consuming – when South Devon College wanted to improve their communication with students, they turned to Tribal for a solution. The institution were using multiple communication platforms, causing lots of issues. They wanted a digital solution to improve direct communication between staff and students, and students and their peers, and also to improve college-wide communications and announcements. Already users of ebs for over a decade, South Devon College wanted to find a platform that would link to their existing college technology, with powerful integrations.
SOLUTION
Tribal Engage is revolutionising communication and empowering students to take control of their learning at South Devon College. Through a secure, private social network app, students and staff can communicate freely with each other, and college announcements can be shared to students easily. South Devon College worked with the Tribal Engage team to develop their own customised and branded app- SDConnect - to present college communications on a single mobile platform. SDConnect integrates with their Student Information System ebs, creating increased accuracy in their data and optimising their student experience. Students now have the power using the SDConnect app to view their timetables and self-report absences.
South Devon College are the first choice for education and training in Torbay, South Devon and the wider community. They are passionate about supporting and inspiring students and pride themselves in delivering an excellent experience through personalised programmes of study. The college offers a wide range of courses and qualifications for students of all ages, backgrounds and abilities.
The college has been a Tribal customer for over 15 years, and have a suite of Tribal products including:
ebs – with modules including:
Prospect (online enrolment and online applications)
Absence management (self-reporting absences)
Timetables
On track teaching and learning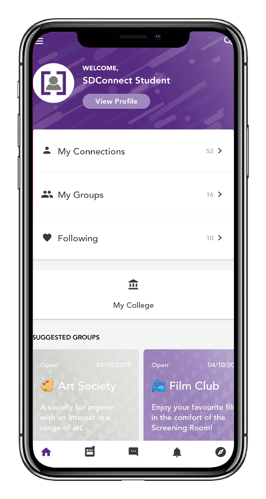 Tribal Engage and ebs are embedded in student operations at South Devon College. ebs is fundamental to the college, as it provides a single point of reference for student data that can be used to support and improve college processes and operations.
The Prospect module has completely transformed student enrolment at South Devon College. Prior to using Prospect, college admin teams would have over 10,000 enrolment forms to be filled in, checked, signed and then stored as physical copies for years. Strict processes would need to be in place for checking the completeness of the forms and their storage, so the college had eligible funding evidence.
Now using Prospect, the college offers online enrolment, they have electronic enrolment records set up, with automated checks, increasing accuracy and reducing the risks and admin time associated with physical enrolment forms. The college set up online enrolments during the Covid-19 lockdown, crucially this process was able to be completed remotely.
Dan Hallam, Assistant Principal at South Devon College said:
"Prospect has completely changed our application and enrolment journey. We have been able to move to taking electronic applications and although we could move to fully virtual enrolment, our preference has been to bring the students on site where we can focus on them and their aspirations rather than compliance with an enrolment process. Prospect has transformed enrolment – it's no longer a process, it's an experience."
TECHNOLOGY THAT PUTS STUDENTS AT THE HEART OF COLLEGE LIFE
Tribal technology has changed over the years to support the changing priorities at South Devon College, alongside the wider needs of the Further Education sector. In the past, the college focused on using technology that was suited to their service teams carrying out administrative functions, but over time their focus has shifted to a student-led approach. Key to this new approach is student self-administration and ownership of their own data. South Devon College and Tribal both envisioned a better future for the technology of further education, one that would empower students to control their actions and data in the palm of their hands.
Dan Hallam continued:
"Tribal technology has modernised and grown with our college to enable us to put the resource into supporting students, rather than just administering their information. The college is undergoing a digital programme of change and Tribal products help to deliver this."
In August 2019, South Devon College implemented the Tribal Engage app, which they branded as SDConnect, a complete mobile solution for their campus community. The potential of the SDConnect app was realised quickly after implementation, when they experienced a major power outage that brought down all their college systems. They quickly turned to the app as they realised students could still receive messages through using data on their phones. The app proved crucial in providing that instant communication and flexibility to keep the students up-to-date efficiently with an ongoing issue.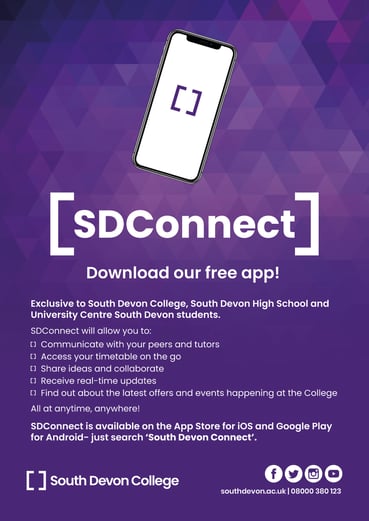 In 2019 South Devon College also introduced Microsoft Teams as a solution to share and save documents and connect staff and students. Microsoft Teams and Tribal Engage work side by side, Teams can be used for sharing and saving learning resources, whereas Tribal Engage allows convenient two-way communication and the ability to self-report absences and show individual timetables.
Tribal solutions have improved processes at South Devon College through increasing transparency and giving the student ownership of their data. South Devon College have been able to redesign and challenge their processes and interactions with students. Using a variety of modules and workflows has enabled South Devon College to utilise the skill set of their staff behind-the-scenes. The focus is shifting from the importance of the accuracy of student data, to what accurate data can do to optimise student personalisation and experience. Now instead of simply collecting student data, South Devon College are empowering students and supporting them to achieve their intended outcome, in their own time, when it's convenient to them, and on their own device.
CONNECTING STUDENTS AND STAFF DURING CHALLENGING TIMES
Prior to introducing the SDConnect app, South Devon College communicated with students through their Virtual Learning Environment (VLE), letters, face to face tutorials, phone calls, text messages, and emails. There wasn't one consistent method that worked for all students or that supported student-to-student communications. Facebook and WhatsApp groups were out of the questions due to do safety and privacy concerns.
Since implementing the SDConnect app, South Devon College have seen a large uptake of 2,500 of their students downloading the app and using it as their first point of contact. They are seeing around 1,150 unique users a week on SDConnect, that equates to around 3,450 views per week and 13,000 views a month.
From a 2020 feedback survey of students and staff using the app, South Devon found that:
72% of students use the app on a weekly basis
97% of students and 78% of staff felt safe using the app
65% of students found the app easy to use
76% of staff have accessed the app news feed, 64% have accessed direct messages and 79% have accessed groups
The app has enabled students and staff to stay connected during the 2020 Covid-19 pandemic and lockdown restrictions. SDConnect allows college staff to easily share updates and important announcements with their entire student cohort in just a click of a button. In the months since lockdown was announced the college communications team shared coronavirus updates, updates on college closures, Principal updates, blog posts and exam results updates.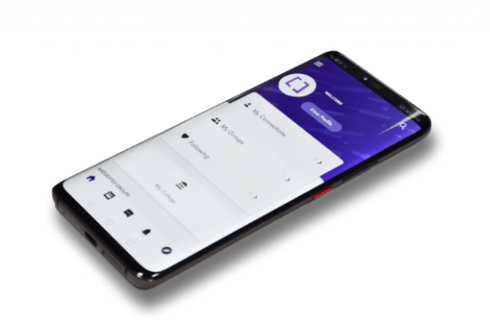 South Devon College have used SDConnect as part of an innovative Head Start programme to support school leavers that are joining the college during the pandemic. The Head Start programme replaced onsite visits and events and aims to support students with the transition to college, bridging the gap created by the Covid-19 lockdown restrictions.
Tutors and lecturers regularly posted content on students groups within SDConnect during lockdown, to maintain contact and help new students feel part of a campus they hadn't yet visited in person. The app has given tutors and lecturers the opportunity to start to create a bond with their students, through sharing personalised posts in the app related to their course and inspiring students for the year ahead.
LOOKING TO THE FUTURE
The college are about to launch absence self-reporting, which allows students to log their absence through the SDConnect app. They had previously used a central call line and also a direct line to departments for students to report absences, both were extremely demanding to keep on top of, and did little to improve attendance rates. With self-reporting, the power is in the hands of the students. The college can then use the student data to report on absence patterns and to influence real change in attendance rates. Covid-19 symptoms are built into absence reporting within the app, and the college are working with Public Health England to support the track and trace efforts.
This coming year, South Devon College are focusing on consolidating the solutions they have and improving on how these solutions integrate and support their students. They want to utilise further personalisation driven through Tribal products and continue the redesign of student services and communications.
When asked about their experience working with the Tribal team, Dan Hallam concluded:
"The desire to provide products that suit the FE sectors needs comes across from all of the Tribal team we have worked it. It has been really great to see the team delivering on the vision they had for Tribal Engage, it helped me realise that Tribal technology fitted our aspirations and desires for the services we provide students. The consultants are knowledgeable and a special mention must go to Max Scales and Joe Hancock who led the implementation of Tribal Engage app with a fresh approach that an innovative product deserved."