Students aren't as happy as they used to be - Tribal's

International

Student Barometer shows a concerning drop in student happiness since 2018.
In 2018, the International Student Barometer (ISB) revealed that 38% of students said they felt always or often stressed or anxious with life at their institution. In 2021, this has risen to 41%. Use of counselling services has doubled. And insightful statistics from Student Minds research show the extent to which the inherent stress and uncertainty of a global pandemic has impacted the mental health and wellbeing of students with 65% of respondents saying they needed additional help/advice during the Covid-19 pandemic. "Of these, just 19% actually got the help they needed" Student Minds reports. Watch this space for a full report into the extent of the Student Mental Health crisis, due for publication soon, but in the meantime it's clear to see why there's a sector-wide spotlight on student wellbeing.
It's the reason why the most recent insights from the ISB – which typically focuses on satisfaction with learning, living and support services – included questions specifically designed to capture data on Student Happiness:
How happy are you with your life at University so far?

Do you have any concerns about completing your studies?

Do you ever feel stressed or anxious about your life at University so far?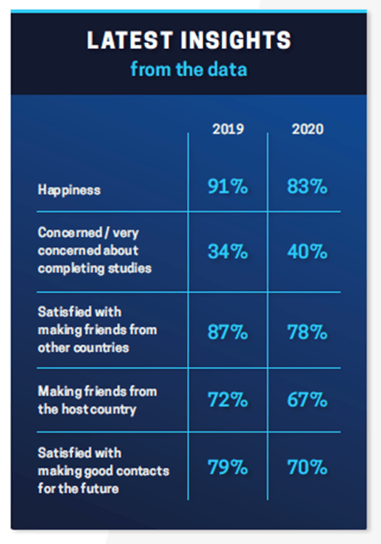 The results spoke for themselves, showing a significant drop in overall happiness from when the survey was last conducted in 2019. In 2019 international students stated that 91% were either happy or very happy with their life at the institution at this stage in the year. In 2020 this had declined to 83% meaning 17% of students are either unhappy or very unhappy.
The pandemic clearly has a lot to answer for. Aside from the health and wellbeing implications, it has also raised questions across international student communities regarding the value of their degree:
students are concerned about whether their qualification will be considered to hold the same value by employers as those completed pre-pandemic.
They are keen to understand whether they will 'get what they pay for' if the course is delivered online and they are unable to visit their host country.
As making new friends and good contacts for the future are key reasons for studying at university, international students are naturally apprehensive about the impact of isolation due to safety restrictions.
Similarly, they are keen to understand how they will be able to belong to and engage in student communities beyond their academic studies, which are easier to transition online.
They also want to know whether, in the declining economic climate, funding bodies on which they rely will continue to pay their institutional fees.
This final point is likely contributing to the rise in international students who have concerns about completing their studies, which has risen to 8 out of 10 students in the 2021 survey. The International Student Barometer revealed that many international students who remain in the home country and who have started their studies online are uncertain if they will ever make it to the country they chose to study in. Add to feelings of disconnectedness the fact that international students are concerned about the integrity of degrees completed online, that were originally designed to be delivered in the classroom – and it's clear to see how institutions globally must endeavor to build online systems and services that allow new students to make friends, study effectively with their peers, get the support they need (remotely), and feel part of the student community.
The Student Futures Commission have published a report on developing a world-class experience for international students. The report recommends that Universities should "considering what specific support international students need" and "review the wrap-around student support provided and considering whether mainstream or tailored support is appropriate." Its clear that the sector need to focus on international student support and the specific needs of international students.
The ability to attract and retain international students in 2022 is undoubtedly an enormous challenge and a difficult balancing act between the desire to open campuses, the need to ensure the safety of students, and the undeniable financial implications of offering students something less than, or at least different to, a full university experience.
The good news? The current generation of digital-savvy students are hungry for digital communications and services and hybrid learning environments, and this digital demand will only increase with Generation Alpha (those born after 2011) who have been fully immersed in digital technology throughout their lives:
"They won't know a world without virtual reality, smartphones, electronic readers, the internet of things and wearables."

Dan Schawbel, research director at Future Workplace
This presents universities with significant opportunity – particularly when it comes to helping to improve experiences and engagement for international students. Indeed a report by Jisc and Emerge Education forecasts growth in demand from international students, and that "tech developments will enable universities to expand capacity in a market that is clearly growing without having to invest too heavily in bricks and mortar". The long-term view in the report forecasts how over the next 10 years the right technology will play an intrinsic role in being able to meet and exceed student expectations with more automated, personalised, flexible and unified university services.
However, as discussed in our previous blog on international student recruitment, UK universities will not begin to harness the expected increase in student enrolment (460,000 to 600,000) if they simply repeat the same messages around reputation, rankings, and student experience. Insight into how to target the right messages to different student personas through effective CRM best practices will be key to this expansion.
Choosing a dedicated CRM to help deliver the best possible student support will also play a vital part in helping international students feel engaged and connected, beyond enrolment. And as all the statistics from the ISB and research into student happiness indicates demand for support and services will only increase, choosing the right, education specific, enterprise-level student support and wellbeing solution could be make or break.
To stand a fighting chance of helping support and welfare teams meet demand for services, the CRM needs to be built on a solid foundation of case management and knowledge base functionality and, ideally:
Allows all forms of student support to be managed from within a central record which contains a complete history of a student's records, together with disability information;

Supports omni-channel enquiries including live chat, video, email and portals and preserves the context throughout the case so students never have to repeat details;

Handles complex student enquiries by separating them into individual issues and assigning multiple departmental resources through to resolution of the case;

Provides out of the box automated workflows to handle common scenarios, including intelligent routing of cases, resolutions, and other business processes; and

Delivers 24/7 support through self-service portals and helps build a community with discussion-based functionality including forums and blogs.
Providing all of this and more, Tribal Student Support & Wellbeing is an education-specific full enquiry and case management suite complete with world-class engagement and self-service functionality. Built on Microsoft Dynamics 365 and the Power Platform and designed to integrate seamlessly with your student management systems, it is proven to help university support teams empower, guide and engage students with dedicated and tailored support. From cross-platform enquiry management through to the handling of individual student needs, the CRM helps build a 360-degree view of each student and allows all forms of personalised student support to be managed securely, and sensitively, in the cloud.
Find out how Tribal's Student Support & Wellbeing solution could help your support and welfare teams meet the increasing demand for services, and deliver student experiences that students – both international and domestic – will benefit from.